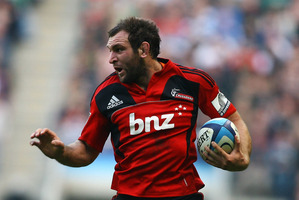 Ian,
With Richie McCaw set to return to Super 15 soon, who should Todd Blackadder choose to move to the bench? Does he keep the experience of George Whitelock out on the field, or the young, up-and-coming Matt Todd? Whitelock suits the No 6 role more, but what's the problem with having two ball fetching No 7s out there?
Chris
It is great having these selection debates and in this situation with the way both players have been performing I would go with George Whitelock in the No 6 jersey.
This brings a better balance to the Crusaders' loose forward mix as George is taller and heavier, and to win this year's title I feel our New Zealand teams will need to front physically against the South African sides hence my desire for the bigger man.
Whitelock's work rate around the tackle area, his defending and ability to slow down the ruck ball allowing the Crusaders to realign defensively, also suggests he should start in favour of another ball fetcher. What I wouldn't like to see is the world's best open-side flanker Richie McCaw playing in that No 6 jersey.
Kamo, there is a theory that for New Zealand rugby to be strong Auckland rugby needs to be strong. Do you agree?
Dominic
I wish that statement was correct because with a little over 21,000 players in Auckland alone (38,000-plus if you include the Super City), this region should be a bigger contributor to our national game.
It is not however, and with our regional super team spreading the talent, we now not only have a stronger provincial product, more teams capable of winning the NPC, but a stronger national side who have been able to increase their winning percentage since that time so clearly that theory no longer holds true.
Hi Kamo,
1) Can you please explain why scrum put-ins can be right under the hooker's feet at nearly 45 degrees without penalty, whereas lineout throw-ins have to be straight.
2) Penalty kicks at goal make up a high percentage of points and take up much time.
A couple of years back the Super 14 competition experimented with "bent arm" penalties where no kick at goal was allowed in many instances.
This sped up the game; fewer goal kicks; more time for ball in play; more running with the ball; more tries.
Why was this abandoned? Any chance it might be re-introduced?
Regards, Peter Worrall (Ex-Counties fullback)
1) Peter I understand your concerns but of all the things that can go, and do go wrong in our scrums, a crooked feed (apart from the most blatant of offences) is the least of our problems.
Most will agree and I know the New Zealand Super coaches think the same way, we would rather see the referees concentrate on other areas of the engage, keeping the thing up than stopping for every crooked feed.
The lineout is another matter as it is still a purely contestable part of our game and a unique feature of it, so the ball thrown down the middle gives both parties an equal opportunity of winning it.
2) Penalty kicks make up 39 per cent of this year's points scored with 409 attempted at a little over 8 a game.
That is a maximum of 8 minutes lost time per game which isn't a lot when you think about the importance of penalties in rugby.
The penalty is there to punish teams who are impeding the flow of the game and this pleasingly has dropped in recent times.
I don't see the bent arm penalties, which where used in the 2008-2009 season under the ELVs coming back as most teams quickly found out it was better to give away your bent arm penalty rather than points and infringing actually increased.