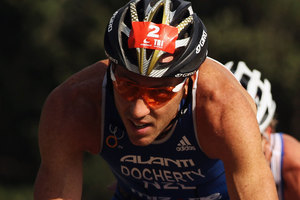 Bevan Docherty is approaching the year assuming he will race at the London Olympics but this weekend's ITU world champs series race in Sydney looms as an important part of that.
No New Zealand male has so far earned an automatic spot for London - Andrea Hewitt is assured of a place in the women's field - and Saturday's race in Sydney is the last opportunity to stake a claim for selection.
A top-eight (and first Kiwi home) finish will snare an automatic nomination to the New Zealand Olympic Committee but New Zealand are likely to win three spots in London based on world rankings. It will then come down to the discretion of the selectors, who will make their nominations next week.
Docherty will be joined on the startline by other Kiwis hopefuls Ryan Sissons, Kris Gemmell, Clark Ellice, James Elvery, Tony Dodds and Martin van Barneveld but Gemmell and Sissons loom as the most likely to join Docherty in London unless someone causes an upset.
Docherty is a two-time Olympic medallist and knows the pressure well but admits he is already focused on London.
"I'm really looking forward to racing Sydney this weekend," he said. "It has certainly been as testing build up with a couple of babies in the mix, but I'm happy to say I'm starting to hit some good form and looking forward to a great result.
"As I have said in the past, my focus is on London in August and that the timing for Sydney isn't that great. However, every race from now until the Olympics is the perfect opportunity to gauge how the training is coming along and what I need to work on."
Ryan Sissons enjoyed a breakthrough year in 2011, firmly establishing himself among the top three New Zealand men but knows the rest of the Kiwi contingent will want to grab a top-eight finish.
"Sydney is really the last chance to show your cards before you either select yourself in the team or you let the selectors decide who makes the team," Sissons said. "Overall, this doesn't change the way I will race. I'm going there to do what I need to do, and that's make the team - just as all the other Kiwis are hoping to do.
"Personally I think it will be great once we know what's happening with regards to London, because currently it's very hard to plan the rest of your season not knowing the situation, so I'm just looking forward to getting it done and plan out the rest of my season, hopefully with London top of mind."
Hewitt has the luxury of knowing she will be there and will race with no pressure on her. Kate McIlroy has presented a strong case for inclusion and the third spot could come down to a choice between Debbie Tanner and Nicky Samuels.
McIlroy goes into the race as the second-ranked Kiwi following her strong finish to 2011, when she was sixth in Beijing and third at the delayed Yokohama World Champs Series race. The 2011 world No 17 is out to prove her credentials on Saturday.
"I have spent the last four months training for this race and I'm finally looking forward to lining up on the start line and trying to emulate my last two world champs races," she said. "If I can achieve a similar result on Saturday, then I know I will be guaranteed a place in the New Zealand Olympic team which will be without doubt the highlight of my triathlon career.
Samuels has overcome a heart complaint to make the start line and can't be discounted.
"My build up has been good with most sessions going as planned," the Wanaka athlete said. "My goal is to get that Olympic selection spot up for grabs this weekend so I am aiming for top-eight placing as the first Kiwi home. As long as I go out there and enjoy myself, the rest should come."
- APNZ