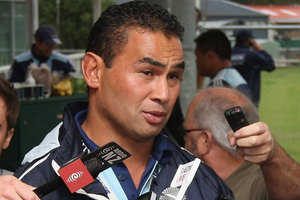 New Zealand rugby boss Steve Tew says under-pressure Blues coach Pat Lam won't be sacked despite his team's poor run of results this season.
Tew also fired a shot today at the racist remarks aimed at Lam which have begun appearing on websites and social media and which led to the Blues coach breaking down at a press conference yesterday, saying the abuse was taking its toll on his parents.
Lam has the option of another year on his contract but New Zealand Rugby Union chief executive Tew said the coach wouldn't be sacked this year. Next year was another matter, however, and not something he could elaborate on.
"This is a private employment matter so I can't really say much more than that," he said. "I imagine Pat is only wanting to focus on what is ahead of him today and tomorrow and Saturday."
Tew said former Blues coach Sir Graham Henry was not an option as a replacement at this stage.
"We've got Sir Graham contracted and Sir Graham has a programme of work that includes spending time with the Blues and he's doing that but he's also spending time at the Hurricanes who we were having similar conversations about this time last year.
"There's always going to be a team under pressure because they [the Blues] are coming last in the New Zealand conference. This year it's the Blues, last year it wasn't. So we will use Sir Graham, but we're not going to put Sir Graham in fulltime to coach the Blues, that's not something that the Blues want or that we think would be appropriate right now."
As for the racist abuse which caused Lam to lose his composure, Tew said: "As a national body, we have a zero tolerance for any racial abuse or activity, that goes without saying. As a New Zealander, because I don't think this is only a rugby issue, I'm appalled. I find the whole ability by people to hide behind social media and be faceless and to criticise people personally and to bring race and religion or anything else into it, is just a very disappointing part of our country."
Tew also said halfback Piri Weepu, who turned up to his new franchise overweight and unfit, was not in breach of his contract.
"He's been fit and available and he's been picked.
"I think everyone's disappointed with where the Blues are at and there have been many contributing factors. But the only guys who can turn it around are the guys numbered 1 to 15 who take the field on Saturday."
See Lam at the press conference here: