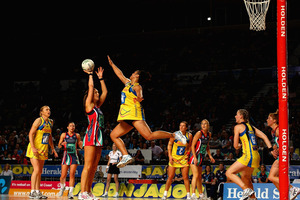 Netball utility Katarina Cooper is in line to make her debut for the Central Pulse this weekend after recovering from an ankle injury.
Copper, from Otaki, has missed the Pulse's first two games of the season but comes in to Robyn Broughton's squad for Sunday's transtasman netball match with the Queensland Firebirds in Brisbane.
"Rather than having it come and go, the medical people are just trying to get it completely better and then it makes it easier for us," Broughton said of Cooper's ailment.
"We'll take Katarina with us this weekend and hopefully she can have a half. Again we have to monitor that. Every day makes a difference with these girls. They're fit, healthy, doing the right rehab and steadily getting better."
The Pulse, who go into the match with one win from their two games, face a tricky travel schedule to make it across the ditch, where they have never won an ANZ Championship game.
It starts with a red-eye flight to Auckland on Saturday morning to meet the plane to get them to Australia.
They play at the unfamiliar time of 12.10pm (AEST) on Sunday then make an early-morning return to New Zealand on Monday.
"It's probably not ideal," Broughton said. "It's not my choice of how we would prepare. But that's the only way we could do it."
The Pulse will travel to Brisbane in a buoyant mood after they registered their first win of the season with a 47-42 victory over the Southern Steel in Napier last weekend, while Queensland are winless this year.
They have built their improved early-season form around the defensive trio of captain Katrina Grant and new recruits Te Huinga Reo Selby-Rickit and Joline Henry, although they have a tough task in front of them as they look to contain Firebirds 1.96m goal shoot Romelda Aiken.
Pulse: Katrina Grant (c), Te Huinga Reo Selby-Rickit, Joline Henry, Millie Lees, Ngarama Milner-Olsen, Paula Griffin, Caitlin Thwaites, Amber Bellringer, Daya Wiffen, Jamilah Gupwell, Victoria Smith, Katarina Cooper.
Follow Daniel Richardson on Twitter
- APNZ