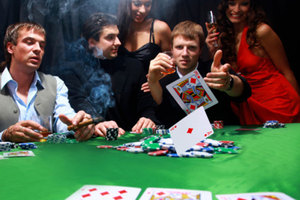 The ever-changing, cyclical world of online poker has gone through many changes in the last 15 years and many of the game's professionals who have been riding the wave are finding the current climate particularly tough.
Ever since Chris Moneymaker revolutionised the poker world by turning a $40 online-satellite buy-in, into 2.5 million cold hard cash at the World Series of Poker in 2003, the online game has grown and developed into a flourishing empire.
A 'that could be me mentality' encouraged kids, parents, sisters and even grandmas to play the game they saw on TV from the comfort of their own home. The poker 'boom' quickly became a multi-billion dollar industry.
Poker is often described as being 'cyclical' and after riding a good cycle for over eight years, something bad happened. That was 'Black Friday' - a term used by American poker players to describe the day in April 2011 when they were no longer allowed to play poker for money on their favourite sites.
A criminal case had been formed against the biggest websites in the game, for charges ranging from money laundering and bank fraud to violating internet gaming laws. This was the bottom of the down-cycle, and the effects were widespread.
One Kiwi who was swept up in the Black Friday mess was professional poker player Richard Grace who was sponsored by Fulltilt poker for around $25,000 a year.
As a result of Black Friday, his sponsorship deal got squashed and contributed to the London-based Kiwi relocating to Christchurch to re-enter ' the real world' - taking on a job as a business development manager.
Grace - a pro of over seven years - has been New Zealand's top online tournament player since 2006. He has over $1.5 million in tracked winnings from poker website www.pocketfives.com including 15 prizes of $15,000 or more.
At 29 years of age he is a 'granddad' of the online scene, someone who has ridden the wave from the 'soft games' at the beginning of the boom, to the more recent harder times.
"2005 was incredible, playing sit'n'gos was like printing money," Grace said. "During that time no-one had any grasp of mathematics or anything. People would just keep folding."
But more recently he noticed his 'edge' on the game getting smaller as players around him were getting better.
"The education level of the recreational players at the high end of tournaments is really high now. Also the fields are a lot bigger than when I first started. So with less edge and and bigger fields it makes the game a lot harder."
Grace compared the life of a professional poker player, to that of a pro athlete, and admitted that his 'window of opportunity' in the game was now over. Taking the Black Friday hit, feeling 'burnt out' from the game, seeing edges decrease and thoughts of starting a family, all played into the decision, but he is leaving the game with nothing but good memories.
Grace sees online poker continuing to develop in a cyclical manner for centuries to come.
"There will be phases where it is really hard, phases where it is easy. Poker has that pop culture feel to it at the moment and until it wains from the public interest, the games are going to get tougher and tougher. But as soon as it starts to fade away it will get easier again.
"But there are still a lot of people who want to give their money away."
Perhaps the greatest example of how the game has developed filters right down to the grassroots level at the home game.
In my semi-regular home game players who used to call a bet because "they had two black cards", are now talking about fold equity, focusing on bet-sizing and working out if they are pot committed.
This is not because they are playing any more than before, but because there is so much more poker information at their disposal and it has become a popular past time to discuss the game and analyse hands.
With this behaviour sifting down to the lowest levels of the game (sorry guys), it is only logical that the average players are getting better too and the tougher fields are making pro's rethink their game and have a closer look at where their edge lies.
But poker is all about out-smarting your opponent, thinking on a higher level and as the recreational player improves, the best pros will find new ways to exploit their newfound 'knowledge'.