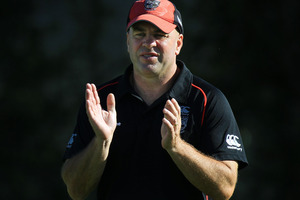 Warriors' coach Brian McClennan is backing his embattled side to put two abject performances behind them and get their NRL campaign back on track.
A 32-12 defeat in Canberra on Sunday came a week after a 26-8 humbling at the hands of the Roosters, dropping the Warriors' record this season to a dismal two wins and four losses, leaving them languishing near the foot of the ladder.
It's an identical record to what the Warriors possessed after six rounds of last year's competition, a season which ultimately culminated in a grand final appearance.
McClennan rightly reckoned it was far too early to be talking about such lofty targets, but he was adamant a change in fortunes was on the horizon.
"There's a long, long way to go - we can't be talking grand finals,'' he said. "That's our ambition, of course, and we stated that at the start.
"But, hell, we've got to get some good performances in there.We've just got to get back to doing some basics and build our game from there.
"I know it's going to happen. I know we're going to get there, but we've just got to give ourselves all a good kick in the pants and get started now.''
What was of more concern than their record is the manner in which the Warriors have been put to the sword in recent weeks. A dismal display in ball security against the Roosters saw the Warriors tackle themselves into the ground, while a promising start against the Raiders was undone when a jaded-looking defence started dropping off tackles and leaving ample holes in their line.
McClennan agreed that his side appeared fatigued yesterday, something he attributed to a propensity to push too hard in a desire to turn around their season.
"That first 10 minutes [against Canberra] we were in there and we were competing, but we flattened out very quickly. The concern there is that, in hindsight, we might have over-trained the boys and flattened them a little bit.
"We're all trying very, very hard and there's a tendency to over-train. The boys just got a bit flat as the game went on.''
That was more than apparent in the four tries the Raiders ran in during a 20-minute first half spell, giving the Warriors a deficit they were unable to overcome. McClennan understood the fans' frustrations but said it was not all doom and gloom in the Warriors' camp.
"The positives I take out of it is, post-game, everyone was very, very disappointed and, I think, we're handling everything with maturity, we're being constructive, we're being honest. There's no finger-pointing going on between players, between coaches or management.''
That may be down to a `been there, done that' attitude within the club, with slow starts generally the rule rather than the exception. So, while McClennan was in his first season in the hot seat, there was no temptation to push the panic button.
"The staff and players that have been at the Warriors a long time, they've commented that this is nothing new,'' he said. "We're really determined to get out of it and we've got to be pretty smart about how we do that.''
That starts this weekend at home against the Rabbitohs, a team with three wins and three losses this season.
"It'll be good to be at home against Souths. The camp away has been very constructive, we just didn't get any fruit out of it.
"It's a matter of taking on board what we worked on and trying to get a foothold and kickstart our season at home.''

- APNZ