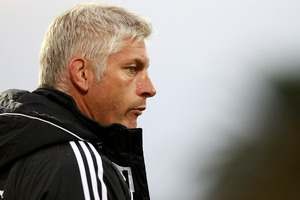 Crusaders coach Todd Blackadder has suggested the Bulls' eye-gouging allegations against his team were a deliberate "negative ploy" to unsettle his players.
Bulls forwards Chiliboy Ralepelle and Flip van der Merwe told referee Jaco Peyper they had been gouged either side of halftime during yesterday's match at Loftus Versfeld, won 32-30 by the home side.
Peyper "white-carded" the incidents, which referred them to a Sanzar citing officer in South Africa, but he decided there was no evidence and no case to answer.
Immediately after the match Blackadder said he was "bemused" and would expect an apology from the Bulls if the allegations were found to have no substance. Last night he said he had not heard from the Bulls and realised an apology probably wouldn't be forthcoming.
"They are two very serious allegations," Blackadder said last night.
"The first one with Chiliboy, you would expect that the player would come out of the breakdown holding his eye, but he certainly didn't. I wonder whether it was a negative ploy."
Blackadder said it besmirched the Crusaders players' reputations and they would possibly now come under greater scrutiny from match officials.
Captain Kieran Read, who scored the opening try of the game, said: "Initially I was really surprised at the allegations. It has now come out that there's no case to answer. It's a kick in the guts to us because we're men of integrity and it's no surprise that it's turned out the way it has."
Sanzar chief executive Greg Peters said last night the citing commissioner viewed the incidents from several camera angles not seen by television viewers and had decided there was no case to answer.
"The citing commissioner has reviewed it and after that review there was nothing in the video footage that would point to the allegation being substantiated, and the citing commissioner also found it interesting that the Bulls did not follow through with a complaint within the four-hour window after the game," Peters said.
Asked whether it was too easy for players to make allegations which later proved to have no basis, he said: "If we thought they were making them on a vexatious basis then we would certainly be asking some questions, but in the heat of the battle it's hard for a player to always know exactly what's happened and that's the purpose of the white card."
Making false allegations would be bringing the game into disrepute and would attract appropriate sanctions, Peters said.
The allegations cast a cloud over a match which featured a thrilling Crusaders comeback.
- APNZ