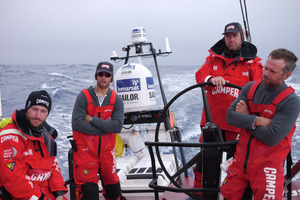 After three days of non-stop work, the pit stop for Team New Zealand's Camper is entering its final stages with the crew expected to depart Puerto Montt, Chile this evening.
The substantial repair job is now complete with the new bulkhead now being cured, a process which involves blowing hot air over the repaired areas to set the resin.
Camper skipper Chris Nicholson said he couldn't over-emphasise how valuable the work of the shore team had been.
"The repair job is looking great and we've got complete confidence in it. The welcome and support here in Puerto Montt has been amazing and we're refreshed and ready to get back on the road. It has been a very good stop.
The crew will also give the boat a thorough clean to remove debris from the repair job, and load provisions and gear for the 3000 nautical mile trip around Cape Horn to Itajai in Brazil to complete the fifth leg of the Volvo Ocean Race.
"Now it's time for us to do the hard work and the sleepless nights," Nicholson said. "We're now focused on getting into the final stage of this marathon and joining the other guys in Itajai as soon as possible, with as many points as possible."
With the leading two boats finished and Groupama expected the resume racing and finish in third, Camper are set to end the leg in fourth place.
"At the moment we're looking at about a nine or ten day trip and for the time, being the weather systems don't look too bad for us. Having said that, you're always very cautious going around Cape Horn as this time of year, but hopefully a few things line up for us and we have a good trip."
On the other side of the continent, Puma held firm in the face of a relentless attack from Telefonica to clinch the victory, crossing the finish line in Itajai, Brazil with a winning margin of just 12 minutes after the Spanish team had threatened to complete an epic comeback.
After more then 7500 nautical miles of racing from Auckland, Puma finished in brilliant sunshine shortly after 7pm local time. Telefonica, who had been a constant threat to them, soon followed for a second place that strengthens their position as overall leaders with five of nine offshore legs now complete.
Telefonica were 400 nm behind the leaders when they resumed racing following a pit stop to work on structural damage to their boat. They quickly began to reduce that gap and came agonisingly close to overhauling the leaders on the line.
Groupama, who have also stopped for repairs, are expected complete under jury rig, while Sanya and Abu Dhabi pulled out after sustaining extensive damage to their boats.
- APNZ