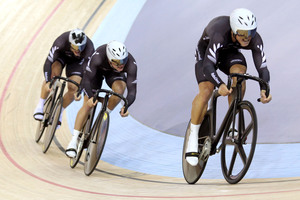 A chance meeting at a Newmarket bike shop has led to Auckland's Ethan Mitchell developing into one of the fastest cyclists in the world.
Mitchell, 21, is part of New Zealand cycling's elite track team competing in the UCI world track championships in Melbourne and a strong contender to make the team for the London Olympics.
It has been a whirlwind four years since a friend talked the then 17-year-old into taking part in the waterfront time trials in Auckland. The Sacred Heart schoolboy, who had loved rugby, cricket and other sports, enjoyed the experience and bought a bike from national champion Justin Grace at his local bike shop.
On Grace's advice he ventured down to the local club and the track at Manukau, and instantly loved the experience. Grace, a world masters sprint champion, volunteered to coach him and now the two are part of BikeNZ's burgeoning sprint programme where the team sprint is ranked in the top five in the world.
Grace has a group of five men, with an average age of 22, and two women who have developed into a world class sprint programme in a sport where riders do not reach their peak until close to 30.
"Justin was the key to do sprinting," said Mitchell. "I was never good at anything long distance, let alone cycling, for a long time. I love going fast - that was the main thing.
"In juniors you ride everything but for me the shorter and faster the more fun for me. I loved cricket and rugby but later on I had to choose and went for cycling. I was 17 at the time before my first junior world to Capetown. I shut everything else down to concentrate on it."
After Capetown, where Mitchell and close mate Sam Webster were fourth in the team sprint, the pair made a pact that they would train "full gas like pros" to win the following year in Moscow.
That they did, with Sam also picking up the gold medals in sprint and Mitchell the bronze.
To achieve that rapid rise meant total dedication to training, with Grace leaving his career to focus on coaching, including setting up a training base in his garage complete with a special training machine.
"Justin's father made him an erg for when he was training - a big stationary metal-framed contraption with a massive front wheel ... and a bucket permanently on the side for throwing up in.
"Sam and I used to go around and smash it there four times a week in winter. There was nothing like those fancy European trips and getting some sun, it was just smash it in the garage when it was raining.
"We still train on it heaps - when the rest of the BikeNZ sprint group come to Auckland for camps Justin makes sure to schedule some erg time to mess us around for half a day. I love it. It's the best part."
It's been a rapid rise for Mitchell, who has developed into the specialist role as the starter in the three-man team sprint, where his best is now in the low 17s range for the opening lap from the standing start.
"It is my main focus right now leading to these world champs and the Olympics ... For us to have such a strong chance in the team sprint is the driving force behind that.
"As far as the training goes for me it is all explosive - a lot of time in the gym and a lot of time doing technique out of the gate. I owe so much credit to my coaches, Justin, and everyone else who has helped behind the scene with that progression.
"A race can be won by 0.005 of a second. If we improve 0.2 seconds over a year then that is significant. That's what we train for in sprinting. Everyone is fast but there's a select few who are phenomenally fast and that is what we are training for."
While Mitchell and his squad are young in age, he is having none of it.
"I think we are just bike riders despite our age. It is all fine to have youth behind us but we are going out there to win and not just ride."