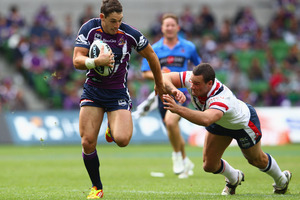 State of Origin is a crock. It's not the highest form of the game. It doesn't involve all the best players. It buggers up the NRL year-in year-out. Ultimately, it will become irrelevant.
For now, those kind of statements risk wandering into Clive "just because I'm in a minority of one doesn't make me wrong" Woodward territory. Time will take care of that.
Heading into its 32nd year, the Origin series is still compelling, compulsory viewing for any footy fan. It will always be worth watching, but jingoistic dingo-country claims that it is the highest form of the game are increasingly hollow.
To be the pinnacle, SOO requires the vast bulk of the game's super-elite players to be involved.
Consider the list of those who aren't: Sonny Bill Williams (he'll be back), Benji Marshall, Kieran Foran, Jeremy Smith and Adam Blair, to name a few.
Those superstars all spent formative years, both in terms of their careers and psyches, at Australian clubs. They would all have been indoctrinated as to the supremacy of SOO. They all had a chance to play it, or at least put their hands up for selection, and all rejected that chance.
Happily, SOO usually fails as a recruitment tool for young Kiwis. Jason Taumalolo's decision to join the likes of Marshall and Foran in rejecting the Origin route proves that. The prospect of one day playing for Queensland couldn't even deter Queensland-born Broncos stars Josh Hoffman and Gerard Beale from throwing their lot in with the land of their heritage.
Yes, there will be losses, with the likely defection of Auckland-born boom Bulldogs prop Sam Kasiano to Queensland a painful case in point (James Tamou chucking his lot in with Ricky Stuart hurts a little less). However, the majority of the Kiwi wave that is sweeping the NRL appear unswayed by the brighter lights and bigger paycheques SOO offers.
Even the colour-blind would have noticed the NRL is undergoing a significant browning. A good proportion of those brown faces originate from these shores. What will the competition look like in 20 years' time? That it will be even browner with more of a Kiwi influence seems likely.
There will, eventually, come a tipping point, where the number of superstars playing SOO is smaller than the number who aren't. Will Origin still be the pinnacle then? Will elite clubs still view it as worthy of entirely buggering up their NRL campaigns for such a huge chunk of the season?
For now, the fixation with SOO that consumes Australia's eastern seaboard shows no sign of waning. Eventually, though, it might just be a case of SOO what?
The club of people who thinks that would be great for the game might be a small one, but our door is always open to new members.