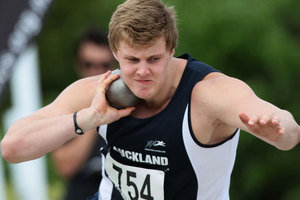 The door to London has not been shut on New Zealand shot put prodigy Jacko Gill, with top-level discussions taking place with a view to the teenager coming back into the Olympic fold.
New Zealand Olympic Committee president Mike Stanley, who is also chief executive of the Millennium Institute where Gill trains, has spoken to the family about the shock decision this week to withdraw from Olympic contention to concentrate on defending his junior world championship title.
Although it could not be construed as an arm-twisting exercise, it is understood Stanley told the Gills the door was still open should he have a change of heart.
That message has been echoed by Athletics New Zealand, which has remained in close contact with Gill over the past week.
Chief executive Scott Newman said that although the national bodysupported Gill's decision, it had taken the time to ensure he was aware of his options.
"There's been no attempt as such to get him to change his mind, but we've certainly made it clear, as has the NZOC, that the door is still open. The qualifying period has not finished yet. He has met the qualifying standard, it's just a matter of time," said Newman.
But Gill's father, Walter, said this week the decision was irreversible, and sources close to the young shot putter believe he will not be swayed.
Commonwealth Games decathlon gold medallist Roy Williams said Gill was so disillusioned with Athletics NZ's handling of the Olympic qualifying process that he did not see the 17-year-old altering his stance.
"He seems quite adamant at the moment, he is very upset," said Williams.
"It is very disappointing not only for Jacko that he won't have the experience to compete at an Olympic Games, which is a fantastic opportunity, but also for the New Zealand public who had been eagerly looking forward to seeing how he would go against the best in the world."
Since the news broke of Gill's withdrawal from Olympic contention, Athletics NZ has come under intense criticism for its handling of the selection process.
Gill had eclipsed the IAAF "B" standard of 20m and Athletics NZ's mark of 20.30m, but to guarantee his ticket to London, and be named in the first group of athletes nominated by the NZOC, he needed to meet the "A" qualifying standard of 20.50m.
But this was not communicated clearly to Gill, who thought he had done enough to justify his inclusion in the initial group of athletes nominated by the NZOC last week.
"The regrettable part is that we did not make it clear enough to Jacko and the family that simply achieving the performance standard does not necessarily mean you'll be nominated in the first group of athletes to be named. I fully expected that he would be nominated, but it was a matter of having to wait out that time," said Newman.
But Newman said Gill had rarely put a foot wrong in his remarkable career to date, and therefore Athletics NZ supported any decision he made.
"It's tough to grasp isn't it? Jacko has almost a different set of values or a different drive to most of us. He almost sees the Olympics as just another competition and he's gone, 'Well, at this stage in my career and development do I really need to go this year?"'
Newman said Athletics NZ had already started working with Gill on tailoring his programme for his title defence at the junior world championships in Barcelona in July.