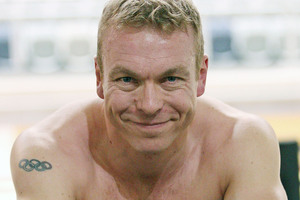 It takes a lot to faze Sir Chris Hoy.
The four-time Olympic gold medallist earned his honorific by being able to deal with anything on the track.
Still, when 21-year-old Kiwi upstart Ethan Mitchell got a jump on him with two laps to go in the first round of the sprint knockouts, Hoy had to use every sinew in those tree stumps he calls legs to overhaul him.
For the first time at these championships, fear swept through the all-powerful British camp.
"I talked to Justin [Grace, coach] and he said Jan van Eijden, the GB coach, was nearly having a heart attack," Mitchell said. "Fingers crossed that there were some photos of that."
The sprint is the ultimate cat-and-mouse event, with riders typically saving their energy for an explosive burst from anywhere from a lap-and-a-half of the three-lap race to go. Mitchell's early jump confounded arguably the greatest sprint cyclist in history.
"It was premeditated. Justin and I talked about it. He's had trouble in his past couple of races coming up against guys he doesn't know.
"I had to give it to him. I found a perfect spot to go and just couldn't quite hold on in the end."
Mitchell felt himself tying up coming down the back straight of the final lap. He still had a gap but by the exit of the final turn Hoy's was a dark and foreboding presence on his shoulder. In the end the Scot had enough track to overhaul the Aucklander.
"He came up and congratulated me. It's awesome to have an Olympic champion come up and show you some appreciation and respect."
Mitchell had earlier set a personal best in the 200m time trial that acts as a qualifier for the sprint, bringing his time down to 10.163s from 10.224s.
Eddie Dawkins, 10.109s to 9.963s, and Matt Archibald, 10.310s to 10.034s, also set personal bests.
Sam Webster was just outside his best with 10.122s and was drawn against defending world champion and Beijing silver medallist Jason Kenny.
Like Mitchell, he put panic through the Great Britain camp, coming within millimetres of overhauling Kenny in a gut-wrenching loss.
"He's a little bit upset but he shouldn't be," Mitchell said of his team sprint colleague. For Sam to get within 1cm of him is incredible... later on he'll realise how well he rode."
Dawkins was the only one of the Kiwi four to progress to second stage of the knockouts, after he convincingly dispatched American Michael Blatchford.
There he lost to Kenny, forcing him into a repechage, where he finished behind Hoy.
Although they failed to win a place in the quarterfinals, the personal bests and ability to take the best to the limit represented another step forward for a team that is being primed for Rio 2016, not London.
"The whole team came here in great form so to come here and replicate that on the track and give it to some of the bigger, more developed sprint nations is just awesome," Mitchell said.