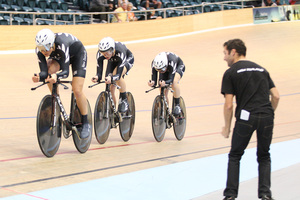 New Zealand missed a medal at the world track cycling champs in Melbourne by just .318s tonight.
The women's pursuit team of Lauren Ellis, Jaime Nielsen and Alison Shanks finished in 3m 19.847, an improvement on their qualifying time but not quite good enough to pip Canada for bronze.
After a sluggish performance at the Olympic test event at London recently, this was at least a return to form.
"The qualifying ride was the second-fastest we'd ever done and tonight's ride was exactly the same time as our personal best, so while we didn't get a podium, there is improvements there from four or five weeks ago," coach Dayle Cheatley said.
"We've leap-frogged our way back into contenders again."
Cheatley said while they wanted to stand on the podium, there were far more positives than negatives to come out of the week.
That tight finish couldn't match the drama in the gold medal race between old foes Australia and Great Britain.
Pegging back a lead that stretched to nearly 1.5s, the British trio of Danielle King, Laura Trott and Joanna Rowsell mowed down Australia and finished in 3m 15.720, obliterating the world record they set in qualifying by 1.3s.
"They've stepped up the level of what's required to win the gold in London," Cheatley said. "They've got a massive pool of talent to pick from and they've really got their act together and put it out on the track tonight."
Cheatley said a podium finish in London was "definitely" attainable.
"There's four strong teams in he world and we're one of them," he said.