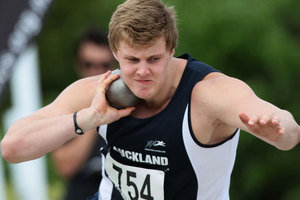 World junior shot put champion Jacko Gill has announced today that he will forgo the chance to compete at this year's London Olympic Games in pursuit of the shot put under-20 age-group world record and the defence of his world junior championship title.
The world junior championships take place just weeks before the opening ceremony of the Olympic Games and are the last opportunity 17-year-old Gill will have to contest a world junior championship event. The timing of the two events also makes it difficult to shift focus from the 6kg junior shot to the open 7.26kg shot.
After not being named in the initial group of track and field athletes selected for the London Olympics last week, Gill has decided that he will instead focus on the world junior championships to be held in Barcelona in mid-July.
"I will now put all my eggs in the one basket." Gill said. "I cannot focus my training with even the smallest doubt of selection, in particular which weight shots to throw and associated distractions. If I had been named for the Olympics at this early stage, it would have been a different scenario."
At a meeting on Saturday with the Gill family, Athletics New Zealand high performance director Scott Goodman worked through the decision with Gill and his father Walter, a former national shot put champion.
"Jacko is an amazing young athlete and person," said Goodman. "Attending both the Olympics and the junior world championships was still a realistic option for him, but after listening to him and his father I realised that he had made a well thought through decision for his long term development. Elite shot putters often have long careers competing well into their 30s and at just 17 years of age, Jacko clearly has many competitive years ahead of him."
"Jacko's long term goal is to win the gold medal at an Olympic Games."
Gill confirmed that it had taken him four days to make the decision not to seek selection for the Olympics.
"I believe that my decision not to seek selection for this year's Olympic Games is the best approach for me to achieve my long term goal of winning gold at a future Olympic Games".
"The decision has been made with a lot of thought and is final. I hope that everyone will continue to support me in my goals and respect my decision."
Gill will remain in New Zealand until June before embarking on a series of warm-up meets through Europe prior to the world junior championships.
- APNZ