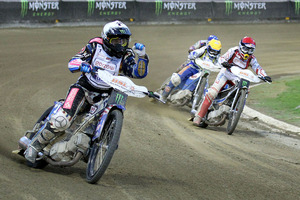 American Speedway rider and reigning world champion Greg Hancock kept his hand firmly on the World Championship title at Western Springs Speedway on Saturday night.
Hancock roared to victory at the first New Zealand World Championship Grand Prix - the season opener for 2012 - dropping just one point to Poland's Tomasz Gollob in the heats and then dropping another to Australian Jason Crump in the second semifinal.
Sixteen riders from around the world contested the 20 heats, giving each rider five rides and meeting each other once. The top eight riders went forward to the semifinals.
The only crash of the day came in heat 16 when Nicki Pedersen went down after being touched by Sayfutdinov. He rolled into a fence, got some medical attention and announced he would start in the re-run of the race with Sayfutdinov disqualified.
In the final, Hancock came out of the first turn in the lead and powered on to lead all the way for a popular win.