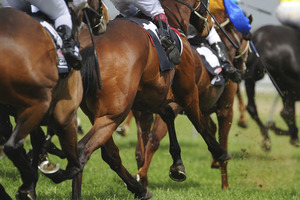 As a young boy, John Sargent used to look at the winning post at Awapuni racecourse in Palmerston North when rugby didn't keep him away, and wonder what it must be like to train a winner going past it.
Imagine a group one winner?
A group one quinella was something no one dreamed of.
Sargent's first group one quinella in Choice Bro and Magic Shaft flashed across the Awapuni finish line in Saturday's $225,000 The Oaks Stud Manawatu Sires and he wasn't even there.
On the basis that blood is thicker than water, Sargent watched the race in the Twizel pub, not far from the National Rowing Championships, where his son Jack finished fifth in a national title.
"There was a bit of humour," was all Sargent would admit to about the Twizel watering hole celebrations, but the voice yesterday hinted towards "bit" in that quote falling a touch short of actuality.
Sargent is 20-something winners clear in the national premiership and has been one of the country's leading trainers for a decade after coming back from Malaysia.
Yet his group one winners are in the single figures, reflecting how difficult racing's elite races are to win. To quinella a group one is literally a dream that few get close to.
"Yes, it was a big thrill all right, particularly coming in my old home town."
Born-again jumps rider Jonathan Riddell did the job for Sargent on Choice Bro, a strongly built son of former fine Australian sprinter Choisir. Riddell positioned the chestnut behind the speed and drove him through between horses in the home straight for a narrow win over stablemate Magic Shaft, who came wider out and finished strongly.
"John [Sargent] has been loyal to me lately and I'm glad I was able to repay that loyalty with this win," said Riddell, who was more animated than after some of his wins on Jimmy Choux last season.
After a talk with the owners of the winner in the next few days, Sargent may send Choice Bro to the Queensland winter carnival for the TJ Smith, a 1600m group one juvenile event at Eagle Farm.
"He's ready to run the mile right now," said Sargent.
Magic Shaft will spell immediately.
There were some good runs behind the winning three in the Sires Produce.
Whether Irish Rebel proved true to his name in reacting badly to the new visor blinkers or not, he did well to finish fourth from the tail of the field and you can only speculate where Fix might have ended up had she not run to the outside fence on the home bend before finishing fifth.
Both have big futures.
Sargent is gearing up to send a team of nine to Queensland, leaving early next week.
They include Oaks filly Quintessential, Dolario, St Germaine, Shanghai Bund and Ying Yang Master.
Kasumi is already in Adelaide preparing for the South Australian Oaks. "She will run in a lead-up race on Saturday week and if her form justifies it she'll run in the Oaks."
The Queensland team will be looked after by former fine New Zealand jockey Bruce Compton and wife Marina. Compton moved to Australia in the early 1980s and more recently, since retirement, has been working for the major operation at Patinack Farm.
"Bruce said he was looking for something else and had a hunt around for who was coming over from New Zealand and we're pleased to have him and Marina," said Sargent.
Compton has not ridden trackwork for a while, but has been hopping on a few in Brisbane to get fit for the Sargent team.
Vinny Colgan has just started back riding work after breaking his hand in the fall from Durham Town in the Telegraph at Trentham in January.
Well, it's evidence yet again that the best horse does not win every race.
Sydney 3-year-old Laser Hawk got the winner's cheque in Saturday's A$500,000 Rosehill Guineas, but he wasn't the fastest horse in the race.
Not even the second-fastest.
Those two spots belonged to the New Zealanders Ocean Park and Silent Achiever, who finished heads and noses from the winner in second and third.
Both turned in superb performances.
On paper, the best ride belonged to Nash Rawiller on the winner. He sat three back on the rail, had plenty of time to wait to press the button and just go from there.
But Glen Boss on Ocean Park and Silent Achiever's jockey, Hugh Bowman, had no choice but to take off early from the back of the large field and go wide from the 500m to get the leaders in sight by the 350m.
They had been sprinting for 300m before Rawiller got going on the winner and only just failed to catch him.
There was one lucky aspect - had regular New Zealand riders Chad Ormsby (Ocean Park) and either Vinny Colgan or James McDonald on Silent Achiever been engaged, Australians would be crowing that they had been outridden by Rawiller, even though both would have had no option but to do exactly what Boss and Bowman did.
The Darci Brahma success story just keeps rolling on.
Maladrino made a statement about whether he should be heading to Australia for his next start by destroying his $70,000 Higgins Manawatu Classic opposition.
He will have to lift again to do the same in Australia, but there's no doubt he can do that.
In context, the biggest winner of the day was Green Supreme. The Easter Mile at Ellerslie on April 14 here we come.
Next best, Full Of Spirit. She deserved that.
Biggest certainty beaten, Nashville. Be thankful if you didn't back it.