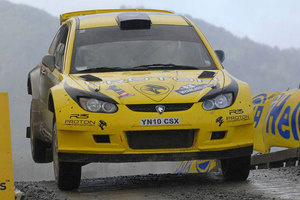 Australian Chris Atkinson leads by nearly one minute over Swedish driver Per-Gunnar Andersson in the International Rally of Whangarei after a day of lead changes and troubles for top contenders.
New Zealander Emma Gilmour holds third overall, just 0.3 seconds behind Andersson.
Atkinson, driving a Skoda Fabia S2000 for Team MRF in the Asia Pacific Rally Championship category of the two-day rally, was seldom out of the top three all day as 47 competitors tackled 159.96km of special stages from the Whangarei event base south to Maungaturoto and back for the overnight break.
Kiwi drivers Richard Mason, Gilmour, Chris West and Kingsley Thompson - all contenders in the New Zealand Rally Championship - took advantage of running on stages which had been swept clear of gravel by the 11-strong APRC field seeded in front of them.
West took the overall lead in his Mitsubishi after stage two, with Gilmour and her Subaru joining West at the top of the leader-board after stage three before Atkinson's superior power in the S2000 Skoda saw the Australian move through the field.
Mason made a good start to be in the top five after the morning's four stages but the three-time national champion was soon out with rear differential problems.
By stage six, West's day was also done - drive-train issues foiled the former national rally champion's bid for victory in this all-important opening round of the New Zealand Rally Championship. Both West and Mason expect to restart on Sunday.
West's demise gave Atkinson the advantage he was looking for, one he held at the same point in the event last year when he went on to become the first international driver to win the Whangarei rally.
"We are coming to grips with the car and learning about that all the time as well, so we're improving as we go," Atkinson said. "Obviously the road position this morning hurt us but P-G is going quick so we have to watch out for him as he will be fast tomorrow.
"If you look at Emma, she is doing a great job. Tomorrow's stages should be good for the car but we will be first on the road so I wouldn't mind a bit of rain tonight to dampen it down and get rid some of that loose gravel on top. Obviously the guys behind will have an advantage on the first pass."
Gilmour said it had been a solid day for her.
"Anthony and I had a good first day together. It was a shame to see Westy go out as he was going very fast. The car is handling so well now. It's got a really good setup. it's me getting confidence in that."
The Rally of Whangarei, which is the opening round of the 2012 FIA Asia Pacific Rally Championship and New Zealand Rally Championship, continues with eight further stages on Sunday.
- APNZ