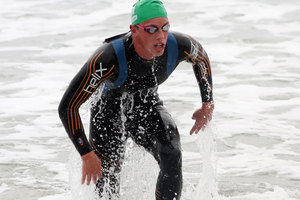 Rotorua's Kane Radford showed he is on target to qualify for the London Olympics after clinching the New Zealand ocean swim series this morning on the back of a victory in the final leg at Takapuna Beach on Auckland's North Shore.
He did it the hard way. He overcame the largest field of elites in the season to win the 2.8km King of the Bays just one day after breaking Danyon Loader's long-standing 1500m freestyle national record at the New Zealand swimming championships.
"It was really good out there," he said. "I didn't feel too bad after the week that we've been through so I just wanted to get out there and try to control the race and see where we ended up.
"With these kinds of races, you never really know what's going to happen because it all happens in such a short space of time. It's great to be able to win this series back-to-back. To win the New Zealand ocean swim series is truly a title to be proud of so I'm absolutely stoked."
Radford spent most of the 2.8km race jostling with Australian Michael Sheil and Kiwis Phillip Ryan and Casey Glover but managed to sneak away to win in 32 minutes 39 seconds, despite an energetic sprint up the beach by the Aussie. Ryan finished third.
"It was definitely one of the closest races we have had this season," said Radford, who is preparing for June's Olympic open water qualifier in Portugal." I just really wanted to secure that win so I was happy just to sit right there in front of the rest, knowing that they would have to put on a big burst to be able to pass me.
"Preparations for Portugal are going really well at the moment. I've been doing my best times in the pool during the last week at the indoor championships so things couldn't be better."
Australian and former world champion Melissa Gorman secured the women's overall series in perfect conditions this morning with her third win from three attempts in New Zealand waters. She finished in a sprint up the beach to head off New Zealand champion Cara Baker and defending series champion Charlotte Webby in a time of 32 minutes 56 seconds.
"It was a really nice swim out there today," said Gorman, who has already qualified for the London Olympics and was using the ocean swim series as part of her preparation. "It was probably the nicest conditions I've swam in since I've been in New Zealand.
"I think for me this is always one of the toughest times to be racing. We just had our national championships a couple of weeks ago and when you're getting back into hard training after that your body goes through a bit of a adaptation phase, which can make it very hard to come out and race."
Unlike in her previous two victories in the Bay of Islands and Wellington, the Australian did not have it all her own way this time as Baker pushed her hard to the end.
"It's great to come away with a win today because it was a really tough race with Cara. She was up with me the whole way so it was good to have someone to push me and I'm happy to come away with the win. I've really loved competing in the series this year and would love to come back next year, too."
The ninth annual King of the Bays hosted a record 1400 participants who competed across four different distance options designed to cater for all ages and abilities. They included long swims of 2.8km and 1000m, as well as a 300m race and a 200m kids' race.
- APNZ