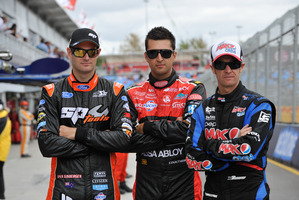 Two out of the three Kiwi hopes for this weekend's V8 Supercars round in Tasmania are fired up, but the third - Greg Murphy - is out because of the surgeon's knife.
Murphy had to pull out of the races at Symmons Plains due to surgery on a blown disc in his back caused by a shunt with Jonathon Webb at the opening round in Adelaide.
"The doctor is very confident that once we take care of this issue, it will fall back into place nicely and we can carry on," said Murphy.
"I expect it to go back to the way it was and to be racing as planned in Hamilton.
"But this has put a bit of a spanner in the works for Tassie this weekend."
While Murphy will be nursing a painful back over the weekend, the other two New Zealanders will be keen to build on their respective successes at the Clipsal 500, which has Fabian Coulthard seventh in the title chase with Shane van Gisbergen just behind him in eighth.
Coulthard in particular has every right to feel chuffed with his early season form as he's been bounced, through no fault of his own, from team to team over the years.
He's settled in nicely at his new Brad Jones Racing outfit and the results are coming faster than expected.
"We're going alright," said Coulthard. "Obviously we had a good round in Adelaide where I finished in the top 10 twice. It was all good at the Grand Prix [non points scoring race in Melbourne] and we managed to move forward in each race and end with a third place.
"The car's going pretty good and things are going in the right direction. We just have to make it a little bit better and that'll all come with time. The biggest thing for us is to keep the momentum going.
The Symmons Plains track is one of the longest serving races in the history of both the Australian Touring Car Championship and V8 Supercars. This weekend will be the 40th time the track has hosted an event.
The circuit may well be one of the shortest on tour, but it's a tricky little place where drivers will be banging the brake pedal very hard twice, half a minute apart.
"There are only six corners and three are really key ones," said Coulthard.
"You generally find the whole field is covered by very little. It's very, very competitive which makes it very level throughout the field.
"We've gone well there in the past and I had a podium there in 2009 and finished inside the top 10 in both races last year," said Coulthard.
The form team early on, in a change from Team Vodafone, is Ford Performance Racing whose drivers Will Davison and Mark Winterbottom are on fire.
Davidson leads the championship and Winterbottom is hot off three wins in Melbourne. He has a stellar record around the Tasmanian track with 13 top-five finishes from 15 starts since joining FPR in 2006.
"Tyres and fuel economy will be important to manage as the lap times at Symmons Plains are so close. Making up a tenth or two tenths of a second is vital," said Winterbottom.