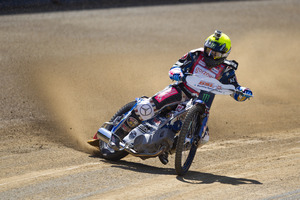 History will be made this evening when Western Springs hosts the opening GP of this year's world speedway championship. Four world champions are among the 15 riders competing for championship points over 20 four-lap, four-man heats which are followed by semifinals and a final. The racing starts at 4pm, with gates opening at 2pm. The Herald casts an eye over the field.
1 Greg Hancock (USA)
The world champion from California is an elder speedway statesman with a sunny West Coast disposition. Hooked on the sport as a nipper he built his career through jam-packed junior fields during better speedway days in the USA. Hancock re-discovered his mojo to reclaim the title he first won in 1997. The 41-year-old pipped our own much-loved Ivan Mauger as the oldest ever champion. Could become speedway's thunder downunder - he won the only other GP held outside Europe in Australia 10 years ago.
2 Andreas Jonsson (Sweden)
The talented Jonsson turned his career around last year after calling in Canadian bike tuner Carl Blomfeldt, a legend in his own right for his work with six times Swedish world champion Tony Rickardsson. Jonsson is the form GP rider and is chasing his first world title.
3 Jaroslaw Hampel (Poland)
Hampel has the toughest job in speedway trying to sneak any publicity from superstar compatriot Tomasz Gollob. But Hampel goes quietly about his business which includes trying to win a first world crown and isn't bothered by being covered in Gollob's high-profile dust. Just two GP wins and form tailed off last year.
4 Jason Crump (Australia)
From speedway stock, and one determined hombre with a reputation for aggressive but fair riding. The triple world champ recounts coming second with a fondness others reserve for memories of wisdom tooth extractions. Built an incredible record of finishing in the world championship top three for yonks until placing fourth last year. Comes to the opening GP without recent racing but appears to do hot and cold well.
5 Tomasz Gollob (Poland)
The sweetest sight on a speedway track. Once ballistic, now majestic - a genius of the speedway species. Mere mortals fight with their bikes but Gollob and machine are like Bogie and Bacall, Armstrong and a space suit, Messi and a soccer ball, Reagan and Thatcher ... let's stop there. The 40-year-old won his first world title two years ago. He is so famous in Poland that the visiting speedway roadshow members liken him to an All Black to help us get the picture. Gollob is famous enough to have had a high-profile divorce case - the true test of any stardom.
6 Emil Sayfutdinov (Russia)
The former under-21 champion burst on to the senior scene by winning his first GP start three years ago but hasn't kicked on since, with injuries partly to blame. Has a crazy streak and never far from someone else's back wheel - touted as the man most likely to put a spoke in Russia's world title duck.
7 Kenneth Bjerre (Denmark)
Forget the world title hunt. The diminutive Dane has enough heat in his own backyard. Teenage brother Lasse - an English league rider - went public saying his major mission in life is to do everything in speedway better than Kenneth.
8 Chris Holder (Australia)
Insiders say the laid-back Aussie doesn't realise the talent he's got and watch out when he does. Also goes well on a surfboard.
9 Fredrik Lindgren (Sweden)
The speedway-loving Poles call Lindgren the Iceman, perhaps because of piercing blue eyes. Lindgren flies in the leagues but brakes in the world championship where he hasn't won in 48 GPs.
10 Nicki Pedersen (Denmark)
Stand back folks - the triple world champion comes stamped Highly Combustible. Pedersen is regarded as TV gold in a John McEnroe sort of way - that's unless you happen to be a TV. Chairs have been thrown and televisions smashed when things don't go well for the temperamental 34-year-old, who has struggled for best form in recent years. Pedersen is the king of aggro on the track and happily winds up the mind games. A hero in Denmark but gets booed elsewhere.
11 Chris Harris (Great Britain)
The Cornwall native carries the weight of a speedway nation on his shoulders and did so rather well by winning the primo British GP at Cardiff in 2007 when riding as a rookie wildcard. Associated fact: just weeks before, Harris - who lives in Coventry - popped out for a pint and ended up terrorised when armed robbers raided the village pub.
12 Antonio Lindback (Sweden)
Sweden's Antonio Lindback is the speedway rider with a dreadlocked X Games look and an unusual, remarkable backstory to match.
13 Bjarne Pedersen (Denmark)
Not related to Nutty Nicki, but did rise alongside his flamboyant countryman. Cut from a very different - more relaxed - cloth, however.
14 Peter Ljung (Sweden)
Gets a GP place after others pulled out of this year's series. Scant GP history. Out to make the most of his luck. Ranks as a Hail Mary odds bet rather than the bloke you want in the office sweep.
15 Hans Andersen (Denmark)
Has a stack of GP experience, four wins in the bank and is coming back from injury. Accepted a GP wildcard instead of going for guaranteed money in the Polish league so might know something the rest of us don't.
16 Jason Bunyan (New Zealand)
The decline of New Zealand speedway sees the Englishman take the local wildcard spot. The seven-times NZ champ flits between the two countries and will get the cheer of his life but is unlikely to spark a Sportsman of the Year nationality debate.