Foundations laid for management and team alike, new coach says.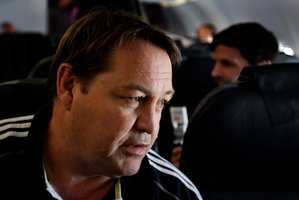 Nearly a decade ago Steve Hansen left his job as coach of Wales after a difficult period, but he's confident his new job will go a bit better.
Hansen has a neat way of comparing his time in charge of Wales with his new job at the All Blacks.
"There are a couple of major changes," he explains. "One is my own experience. That was 10 years ago, so I would like to think I'm better prepared for it. I've been in the environment at the All Blacks for eight years, whereas I had been in the Wales environment for six weeks."
Coaching Wales in 2002 and 2003, after implementing some unpopular changes, was a valuable learning experience for Hansen. Adding to those difficulties was a record as head coach of 11 wins against 20 losses, including all of their 2003 Six Nations matches and a record 11 in a row.
All things considered, his departure to New Zealand to be All Blacks assistant coach wasn't universally mourned.
Now the Cantabrian, appointed All Blacks head coach following Sir Graham Henry's resignation, is busy with his new job, armed with experience, wisdom and probably a little humility.
There are Super 15 matches to watch - in person and on television - and he is already liaising with his selectors Ian Foster and Grant Fox. The other men on his team, Aussie McLean and Mike Cron, will become involved closer to the All Blacks' first major assignment of the year - facing Ireland at Eden Park on June 9.
In previewing his first season as coach of the All Blacks in a two-year deal, Hansen returns to the Wales theme, pointing out that the unpopular decisions he helped to make appear to have paid off, although he wasn't taking any credit away from fellow New Zealander and current Wales coach Warren Gatland.
"At that time there was a huge need for change in the Welsh structures and systems and their culture," he said. "What we were trying to achieve there was to get a culture that was sustainable to breed success. They've won three Grand Slams in the last eight years. What we did was build the foundation, what they've done since then was put the buildings on top of it.
"With the All Blacks you don't have to do that. The foundation and the culture is all good at the moment and the buildings are on it, you're just having to realign yourself and evolve and look to add to what is a magnificent history.
"We've just come off a hugely successful period and now we have to knuckle down and look to go again and be more successful."
The 52-year-old former detective has had his challenges over the years - and not just with Wales. There have been spats with the media, which he later accepted he could never win, and his mission in carrying on Henry's legacy is a tough one.
Although he was clearly helped by assistants Hansen and Wayne Smith, it is Henry who boasts the 85 per cent winning record with the All Blacks.
All eyes will be on how Hansen copes at the helm, with help from a team fairly new to international rugby. Attack coach Foster, formerly in charge of the Chiefs, has never experienced an international as either a player or coach, selector Fox had a great playing record with the All Blacks but has yet to pick a team of any note, defence coach McLean was an assistant to Samoa during last year's World Cup and Cron, the new forwards coach, is best known as a scrum expert under Henry. And that's before we come to getting the All Blacks up again following the highs of last year, because history tells us teams often struggle the year after a major success.
"There will be one or two challenges but, by and large, if we re-set our goals and the goals that are shared by not only the coaching staff but also the playing group and the management - the whole team - then it shouldn't be that difficult because it's all about us doing it rather than an individual," Hansen says.
"Individuals will have their own goals and that's right and proper but they need to morph into the team goals because the team always comes first and I think if we do that and we take our time and make sure we've got that in concrete, then there are some great opportunities and some great challenges for this new team."
As for the added pressure, scrutiny and demands on his time, he says he is prepared for that.
"There are a lot more outside influences to be dealt with; that is to be expected. It's about making sure you've got your weekly, monthly, yearly programme well calendared and well organised. You've just got to be communicating and doing those things well and staying on top of it."
Hansen says he is already working closely with Foster and Fox and he is confident in their abilities.
"Fossie and Foxy are both brand new to the selection process, as Aussie and Crono will be when they come into selecting teams from test week to test week. But they've all got their areas of speciality and they've also got the ability to transfer right across the board and I think we've got a good mix. We've got people who are strong enough to voice their opinion and back that up with a good argument. But we've also got people who will be able to come to some conclusions and commit to some conclusions as a group, so that's important."
Hansen, a straight shooter, is known to be popular with his players. When asked if his new role would be more hands off - he was mainly a specialist forwards coach under Henry despite a playing career as a midfielder - he said: "I think as a head coach, your role is to oversee, facilitate the running of the team in all areas so that requires a different approach. It doesn't mean you're hands off, it just requires a different approach. Instead of being the guy challenging the thought processes and chucking up the odd different idea, you are sitting back and being challenged and from time to time challenging people in their areas of expertise and saying 'hey, what could we do differently here?"'
Ireland, who have never beaten the All Blacks, shouldn't present too many difficulties on their three-match tour in the middle of the year while Super 15 takes a break. The acid tests will occur in August, September and October with the Rugby Championship and later in the year against Scotland, Italy, Wales and England.
That schedule is the reason why Hansen is relaxed about the slow start among the All Blacks in Super 15. And in terms of trends developing, there's nothing too worrying there either, he says.
"It's just reinforcing once again the need to get the ball over the gain line. We're really not seeing anything ultra different, but we're seeing a lot of the things that are reinforcing the basic principles of the game.
"You've got to get quality set-piece ball, you've got to make sure that set-piece ball is being linked in with quality strike moves. Kick strategies have to be precise because, if you kick poorly, you're going to be punished."
The foundations are there, he says. It would be nice to think the man who went through a bit in Wales, and who will see his house in the Christchurch suburb of Halswell demolished due to the earthquakes, knows a thing or two about those.
- APNZ