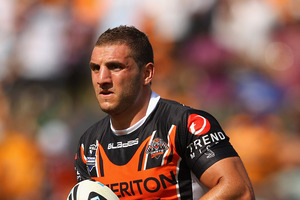 "As an actor I'm now in the same place I was as a footballer between 26 and 30. I can really enjoy it."
Frenchman Eric Cantona. What about as a pretentious bell-end, Eric, where would you say you are on that scale?
"We used to be mates, not anymore. I love an ambush."
Tigers skipper Robbie Farah, who was less than thrilled with Matt Johns' line of questioning during an interview.
"This referee was grossly incompetent. He had no business being on the pitch, he messed the game up with premeditated decisions. Where's the control? We tried our best."
Yanga chairman Lloyd Nchunga after five of his players beat up a referee.
"It was not one of our fans - how could it be? It was a trick by an agent provocateur. We have a lot of dark-skinned players, and have never had any trouble of this kind."
Lokomotiv president Olga Smorodskaya reckons it couldn't have been one of her fans who threw a banana at Anzhi's Christopher Samba.
"This is a typically female response."
Anzhi director Herman Tkachenko trumps the latent racism with a serve of misogyny.
"The use of the music from the scandalous film in place of the anthem of Kazakhstan was completely a mistake of the organisers."
Kazakh shooting team member Oksana Stavitskaya, after a gold medal was marked with the playing of a spoof anthem from the movie Borat.