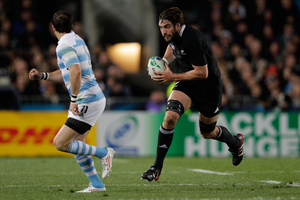 Incumbent AB will be 28, with a possible 69 test caps, come 2015.
With talk of Super 15 trying to expand into America, do you think our penalising of players for anything remotely dangerous (ie: spear tackles) will harm its chances of growing the game when compared to the huge hits of the NFL?
Jarryd Symons
Firstly Jarryd, with an expansion of super rugby, America wouldn't be a market I would target. The logistics and cost alone would make it prohibitive and without an established rugby culture such as in Argentina or the Pacific Islands, there would be a need to import players to make a competitive franchise.
With regards to the big hits, rugby has plenty of our own - without the pads and helmets. Professional sports have an obligation to ensure player safety which is why spear tackles are so harshly punished in our game. Trust me , rugby is still a tough sport.
Kia ora Kamo,
Two questions:
1) What would be the chance of U21 teams being aligned with a Super 15 franchise similar to how the NRL operates. To me it would provide growth to rugby and incentives for players wanting to reach higher honours.
2) What would be the chance of the Pacific Nations (Fiji, Tonga, Samoa, and others) combining and establishing a Super 15 franchise operating out of the (Northland, Pukekohe, Rotorua or other) stadiums. A Super 15 franchise of top Pacific Island players would surely provide much needed revenue to the Island home unions and to the area where they are based. Your thoughts eagerly awaited.
Dennis Waru
Really good suggestion Dennis, as it is this age group of players that are being targeted by rival codes, or heading offshore to seek more immediate opportunities, that we need to protect.
The competition would need to be U20 to keep it in line with the IRB competitions and would have to replace, because of costs, the development programme our New Zealand franchises are already running. This would be a meaningful competition for our schoolboy stars and late developers to launch their careers and be introduced to the demands and expectations of a professional athlete.
If any expansion of super rugby was to happen, and that is not possible until 2015, a Pacific Island team would have to be right in the mix. Whether it is based in New Zealand or the Islands is an unknown, but don't count on a lot of revenue flowing back to the unions because of it. Ask the NZRU, these ships aren't cheap to run.
Hi Ian,
Why can't New Zealand's five major unions play in the Super 15, rather than having separate Super 15 franchises?
It's like combining Liverpool with Everton calling it Everpool and asking the supporters to cheer for the combined team. It would never happen.
Doesn't the franchise system fight against New Zealand's rich provincial rugby history?
Also, on the subject of daytime games, TV money gets talked about an awful lot but how many overseas viewers are actually watching NZ night time games in their time?
Richard Bloemendal
Who are New Zealand's five major unions Richard? Is that based on last years ITM cup?
One of the strengths of our game is having a large base made up of the 14 provincial unions that then feed the five Super 15 franchises and ultimately our national team.
Take that away, compact our resources and our game will suffer.
A reality of professional sport - and this is enhanced with franchise contracting - is that the individual franchise in New Zealand can contract anyone they like regardless of what catchment area they live in.
This means you will have non-locals playing for your team. If the team is successful, all that is forgotten and the franchises will create their own rich history.
With regards to night-time rugby, it is the directive of the unions (not TV) to play under lights, and one of the main reasons for this is to protect club and schools rugby. We would all agree, the more numbers we can get to those games the greater our base will be and that has to be good for our future.
Who are our best six locks, looking towards 2015?
Valmai
Crystal ball gazing is a wonderful pastime, Valmai, so thanks for the opportunity.
Sam Whitelock, incumbent All Black, is top of the list. He's now 24 and has 25 caps. In 2015, he will be 28 with a possible 69 test caps, and he'll be a senior figure in the side. Brodie Retallick is making an impressive start to his career and has all the size, skill and attitude to go a long way in the game.
The Blues' Liaki Moli will be one to watch if the game speeds up any more and he will increase his understanding of the game in the three years with the right guidance. Boric and Hoeata need to be mentioned for their experience value and then from our current lot James Broadhurst and Josh Bekhuis may also be in contention.
Hi Kamo,
Is it possible that teams with a weaker scrum might concoct forward injuries in order to necessitate uncontested scrums and thereby achieve some parity? I'm not saying this was the case when the Cheetahs played the Crusaders, but it did seem to benefit them greatly. Does there need to be a rule change to prevent this type of thing from happening?
Gavin
A rule change was introduced a few years ago, Gavin, with the detailed requirements in the 15-a-side game that every squad of 22 players had to have at least two specialist front rowers on the reserve bench. This was primarily a safety issue, but also had the intention of stopping the issue of uncontested scrums.
I would be horrified to find out in the game I love that any of them would raise the white flag and opt for uncontested scrums. And I hope the players, in such a combative position, would be deeply embarrassed.
Hey Kamo,
I notice that when quick penalty or free kicks are taken the ball does not leave the hands after being touched by the foot. Has this rule changed as the refs are not pulling it up?
Ray Olsen
There has been no rule change around the example you give Ray, and the laws state from a free kick or penalty the ball must be propelled from the lower leg, that is the knee to the foot, excluding the player's knee and heel. Bouncing the ball on the knee is not taking a kick.
Any player who taps the ball with his lower leg without releasing the ball is taking that kick illegally. That's the law, but in a rugby sense when the act has no direct influence on an outcome, I suspect the refs are overlooking it for the continuity of the game.