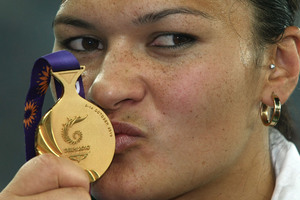 New Zealand shot-put legend Valerie Adams is hoping for a cannonball run at the London Olympic Games in August. She has the psychological edge over her competitors, this month regaining the world indoor title. She is the reigning women's Olympic champion, triple world champion and double Commonwealth champion. Adams, 27, holds the New Zealand, Oceania and Commonwealth records and is joint record holder at the world champs with a personal-best throw of 21.4m. Some of our Twelve Questions with Adams are inspired by the Proust questionnaire. Here are her answers ...
What is the greatest challenge you've had to overcome to be where you are?
Dealing with a divorce from my husband and my coach in 2010 and overcoming life obstacles.
Describe your pre-performance ritual? Is there a thing you must always do - that you feel superstitious about - before going out on to the field?
I do blast music while I am getting ready, but no ritual as such. I always pack the night before a major competition and double- and triple-check before leaving, with priorities being throwing shoes, belt and uniform.
What is your current state of mind?
Great and happy and settled.
When did you last cry, and over what?
At the airport - when I left New Zealand to travel to Switzerland on March 2 - because I was leaving my family, and I miss them so much and every day.
When are you happiest?
When I am surrounded by the people I love - my family - and doing what I love, which is competing.
To what do you owe your parents?
Great genes from both parents and the way my mother brought me up and educated me in the Tongan way.
What is your favourite journey?
The journey to London so far.
What characteristic, physical or otherwise, do you like least in yourself?
My big feet. But they are great for what I do.
What trait do you least like in others?
Arrogance.
What is your greatest indulgence?
Chocolate at the moment - lol.
What music unravels you?
Techno and reggae.
If you were to die, who or what would you like to come back as?
An eagle.