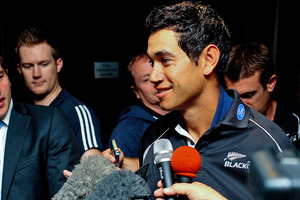 It wasn't quite like Colin Meads tackling the Springboks with a broken arm in 1970 but New Zealand skipper Ross Taylor said he would have batted with a surgically-repaired left arm to help save the third cricket test against South Africa.
Meads famously played his 50th test for the All Blacks with a broken arm in a flimsy splint against South Africa in the Republic and Taylor said he made his way to the ground as the Proteas closed in on a win yesterday afternoon at the Basin Reserve.
"I was hoping not to [bat],'' Taylor said. "I was back at the hotel with about 10 overs to go and then I got the phone call to ask whether I could bat. I thought you don't often get to save a test match, so I drove down. In the Wellington traffic it took me about five overs to get there, but the boys were looking pretty solid so I didn't have to don the whites.''
Earlier in the day, Taylor was on the surgeon's table as he had his fractured ulna operated on - he was struck by a Morne Morkel bouncer the previous day and was forced to retire hurt.
Kane Williamson, who made his second test century and finished the day unbeaten on 102, and Doug Bracewell (20 not out) batted out the day for New Zealand to complete a hard-fought draw.
They eventually lost the series 1-0, but their exploits drew praise from Taylor as they saved him from the prospect of batting with a broken arm.
"It was disappointing to get injured when I did. I would have liked to have helped the team get a draw but, at the end of the day, we got there in the end. I thought Kane Williamson, especially, batted outstandingly well. But I think Doug Bracewell has to take some credit there, too. Two 21-year-olds batting and were very mature for their age.''
Taylor, 28, said he would likely bat with a forearm guard in the future, although it wasn't something he had done in the past.
"I don't really want to wear one. But obviously I will be wearing one for the next year or so I think.''
- APNZ