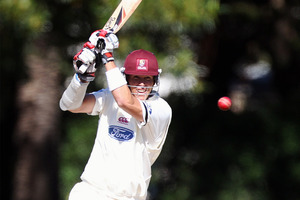 Northern Districts yesterday won their second Plunket Shield title in three years, thanks to a helping hand from Canterbury.
Going into this week's final round of matches, the Knights could only be denied if they failed to secure victory against Central Districts and Auckland picked up maximum points against Canterbury.
Northern are on the ropes against the Stags after the third day in Napier but, thankfully for them, Canterbury's batsmen ensured the trophy was Seddon Park-bound after blunting the Aces bowling attack in Auckland.
With Canterbury resuming on 170-2 this morning, the second-placed Aces needed to pick up seven wickets in 26 overs if they were to claim all four bowling bonus points on offer. But they managed to strike just once more - handing the title to Northern Districts regardless of the result of their match.
The Knights celebrated in style in Napier, partaking in a champagne lunch mere minutes after proceedings in Auckland were confirmed.
Wicketkeeper Pete McGlashan was given a break in the afternoon session, with captain Brad Wilson taking over the gloves, while coach Grant Bradburn was substituted in as 12th man.
As those adjustments to the line-up indicate, the result of all three matches heading into tomorrow's final day are perfunctory. Which is just as well for the champions, who are facing a mammoth chase to try and put the icing on the cake against the Stags.
They'll resume in the fourth innings today on 12-1, with a further 410 runs needed to take their fifth win of the season. That was after the Stags steadily batted themselves into a position of dominance before declaring on 323-4 late in the afternoon.
Dean Robinson retired hurt on 56, while Matt Sinclair (65) picked up yet another first class fifty, and Keiran Noema-Barnett was unbeaten on 69 to complete a fine match in which he scored 174 runs without being dismissed.
At Colin Maiden Park, Canterbury eventually drew their innings to a close on 363-6, with Rob Nicol (64) Peter Fulton (87) and Tom Latham (59) compiling half centuries.
In reply, Auckland went to stumps with a 233-run lead after advancing their second innings total to 151-2. Tim McIntosh (79) and Anaru Kitchen (71) will resume today as Auckland look to hold of Wellington for second spot on the ladder.
And that task will probably prove easy considering Wellington's predicament in Dunedin. Otago eventually declared on 519-8 this morning, a lead of 407 runs, and proceeded to rip through the Firebirds' batting lineup for the second time in the match.
A half century from opener Josh Brodie was the strongest resistance Wellington's batsmen provided and the visitors went to stumps on 207-6, still requiring 200 runs just to make Otago bat again.
- APNZ