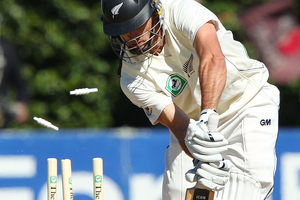 Michael Brown of APNZ looks at five reasons why we shouldn't totally despair at the state of the New Zealand cricket team.
1. More is good
After what has been a lean period over recent times - unbelievably New Zealand didn't play a single test between January and November 2011 - the Black Caps will play 15 tests over the next 14 months. They start with a tour of the West Indies and then head to India, Sri Lanka and South Africa before playing England home and away. Limited overs cricket has clearly had a detrimental effect on some players' technique and application and this can (surely) only improve as the focus on test cricket increases.
2. Vernon Philander
Sadly, Vernon Philander was born in Bellville and not Balclutha but the South African pace bowler is something extraordinary. On Monday he snared his 50th test wicket in only his seventh match, becoming the fastest to reach the milestone since Australian Charlie Turner in 1888.
Philander might have humbled New Zealand's batting lineup but there must be some comfort in the fact he did the same to Australia (14 wickets in two tests) and Sri Lanka (16 in two tests) - and did it with the help of Dale Steyn (No 1 ranked test bowler) and Morne Morkel (No 11) steaming in at the other end.
3. Good stocks
It's easy to overlook the fact New Zealand bowled out South Africa for 238 in Dunedin and 253 in Hamilton. That's no mean feat, considering they possess four of the world's top-10 ranked batsmen in Jacques Kallis (No 2), AB de Villiers (4), Graeme Smith (8) and Hashim Amla (10). In Hamilton, the tourists were reduced to 88-6 on a pitch that wasn't nearly as bad as many batsmen made it look. It's not always going to work, but in Chris Martin, Doug Bracewell and Mark Gillespie they have wicket takers, and there are others on the cusp of selection.
4. Young and the restless
You can hardly say the production line of talent resembles a Nissan car factory but there are some promising players coming through. Kane Williamson heads the list and needs to be given plenty of time to become the player he has the potential to be and Tim Southee will feature again once he sorts out his rhythm. Add to that the likes of South African-born left-armer Neil Wagner, who qualifies for New Zealand soon, Tom Latham, Mitchell McClenaghan, Hamish Rutherford and Jesse Ryder, if he can overcome his personal issues.
5. Hobart
A bit like the one shot a golfer hits down the middle of the fairway each round, Hobart did enough to bring us back for more and remind us why we follow the New Zealand team. The margin of victory - seven runs - made it sweeter and the fact it was a Bracewell (Doug took 6-40 in Australia's second innings) only enhanced that.
- APNZ