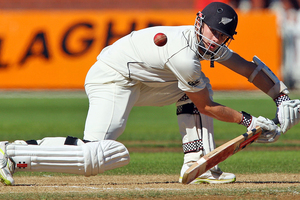 How the Black Caps rated in their third test draw against South Africa in Wellington.
Daniel Flynn - 5.5/10
Just what the Black Caps needed at the top of the order. Put away the bad balls and was confident in leaving. Short ball remains a weakness at times and led to his downfall in the second innings.
Martin Guptill - 6/10
Spent time at the crease which is what you want from an opener. Like many he was guilty of not pushing on but the time out in the middle should give him confidence after a shaky last few weeks.
Brendon McCullum - 4/10
Not a great test for McCullum and a series of what could have been. Too many starts. Should be banned from pulling and hooking at test level. He can drive and cut well - maybe just rely on them in the longer form of the game for now.
Ross Taylor - 3/10
An awful blow to be ruled out of the test match but it was his captaincy decisions on the first day that warrant his low rating.
To win the toss and bowl - then resorting to spin in the 13th over, and then even more bizarre bowling Brownlie another 13 overs later - handed control of the match to South Africa. There didn't seem to be a plan in the field and the tourists were very rarely put under pressure.
Kane Williamson - 8.5/10
A brilliant knock by the youngster as the South African bowlers threw everything at him and he stood his ground. Finished with the third most runs in the series behind the South Africa openers. Others in the Herald online office thought he was worthy of a 10 but those are only saved for match-winning knocks and spells. Maybe it wasn't "time to worry" after all.
Dean Brownlie - 5/10
Same boat as Flynn in making the most of rare mistakes from the South African bowlers (32 of his 44 runs came from boundaries) and spent time at the crease. But it was a tough ask to come back onto the test scene and face the best pace attack in the world. Proves how big the step up from domestic to test cricket is in this country.
Daniel Vettori - 4/10
South Africa had a plan to just play him out and it left him with very unflattering match figures of 1-138. Handy runs to get New Zealand past the follow-on mark but could also be critised for throwing away his wicket at a vital stage. Done by a cracking yorker from Morne Morkel. Finished the series with a bowling average of 95 and a batting average of 19.40. The other way round would have been nice.
Kruger van Wyk - 6/10
Will be very interesting to see who gets the nod at wicketkeeper for the West Indies tour (does 39 against SA equal Watling's ton against Zimbabwe?). Proved he's a battler with his 100 minute stand on day five and rarely put a foot wrong behind the stumps.
Doug Bracewell - 6/10
Got Graeme Smith with a dubious caught behind on day one then toiled with the other three pace bowlers without much precision or success. Overall though an impressive first summer at test level with 30 wickets in seven matches. Finally showed signs of his batting ability on day five after entering the crease sitting on a second straight pair. A crucial 79 minutes in the middle which ensured Gillespie and Martin didn't have to face the music.
Mark Gillespie - 7.5/10
11 wickets for the series and he played in only two tests - all with a very nasty sounding toe injury. Toiled away and was rewarded with six wickets against a very good batting lineup.
Chris Martin - 5/10
Started to lose his effectiveness as the series went on but can still pull out a damaging spell - like he did on day two to dismiss Petersen and de Villiers. Hopefully we'll get to see him on home soil again.