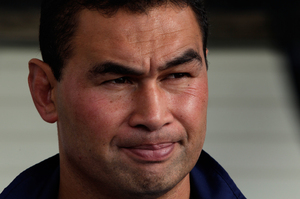 Blues coach Pat Lam has copped a further hit as he and his beleaguered squad tried to lie low during their Super 15 bye week.
Lam has been reprimanded and forced to apologise to Sanzar and citing commissioner Steve Hinds for comments he made about the length of Blues flanker Luke Braid's suspension for striking. The Blues coach could not believe Braid had been banned for three weeks while Hurricanes hooker Dane Coles escaped any penalty for striking Highlanders prop Bronson Murray.
"The citing commission has to look at themselves there," Lam said. "All you ask for is fairness. So we've got one guy out for three weeks and one guy who is playing.
"The citing commissioners have got to do a job. The one in South Africa picked it up and Luke has to face the consequences; whereas the one in Wellington, I'm not sure what he was looking at."
Those comments irked Sanzar officials but chief executive Greg Peters said that after some consideration, they had chosen not to take the matter any further.
"We have decided not to refer it to the judicial officer for a breach of conduct hearing, given Lam's willingness to make both a public and private apology about the matter.
"But this should serve as a reminder to everyone that comments will be treated very seriously and there needs to be a threshold.
"This is about calling into question the integrity of people in the game. It is okay to say something like a decision was tough but to go to the next stage ... brings problems."
Peters said franchise officials were reminded each year about their obligations to the tournament and competition regulations. Reds wing Digby Ioane and Sharks fullback Stefan Terblanche were last year fined when they faced similar charges for messages on Twitter.
"I wish to formally acknowledge it was not appropriate for me to make comments criticising the performance of the citing commissioner," Lam said yesterday. "Citing commissioners are not in a position to enter into a public debate around the merits of their decisions, and I accept that to personally criticise any official in that way is inappropriate."
Lam acknowledged the need for interaction with the media and the public but said there were times when certain issues were best left for more direct dialogue between Sanzar and franchise officials.
Ask Kamo: Former All Blacks Ian Jones answers your questions on the state of rugby in Friday's SuperSport.