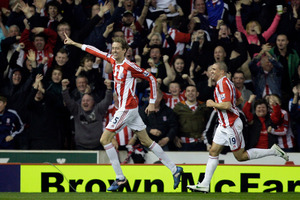 There was a moment at the weekend when Peter Crouch, his body shaped as if goal-scoring legend Marco van Basten, became fleetingly one of the true giants of the game.
The fact that he later paused before answering the question "your best ever?", as if mentally flicking back through his collected works of great goals, only heightened the moment.
The parabola he traced audaciously through the sky simultaneously pencilled in another chapter of his breed's soccer parable; big can be beautiful.
Actually it is more specific than that. Crouch and his ilk are not the towering brickhouse frontmen so beloved of Sam Allardyce; rather, his breed exists uneasily outside the game's big five - the strapping centre-half, the languid creator, the tearaway wide man, the goal poacher and that brickhouse. They are tall but more beanpole than battering ram, and with that come a peculiar spread of skills and an unparalleled ability to mix the gracious with the clumsy, the bewildering with the breathtaking. We're in giraffe country.
There appears a lack of trust in tall, gangly strikers such as Crouch.
No one, not least the player himself, is quite sure what will happen next.
When they are good, they stand out and when they are bad they stand out even more. There is soccer snobbery at work, too. Fabio Capello, seeped in the Italian tradition, was never going to trust a player who can appear part van Basten, part Rodney Trotter. To Capello, Crouch didn't look the part of an international footballer.
Yet his record suggests otherwise, as do those of Koller and Zigic. Koller scored 55 times in 91 games for a good Czech Republic side, playing in three European Championship finals and one World Cup. He formed a classic partnership with Milan Baros, the pair's contrasting abilities fitting together as well as Sir Dave Richards and an ornamental water feature. Zigic has 20 goals in 57 games for Serbia and Crouch has 22 in 42 for England.
Harry Redknapp was once an admirer (although he did crate him up and ship him to Stoke) so there is some hope of an international return.
Whether or not Crouch, now 31, ever gets to play for his country again, he already has an international reputation. He is big in China, although not as big as Yang Chanpeng. When the 203cm (some have him at 210cm - the variance is all part of the endearing mystery of the giraffe men) player arrived for a trial at Bolton he revealed that back home he was known as "Two metre" or "Crouchie".
It leaves the Norwegian Tor Hogne Aaroy to lay claim to being the world's tallest outfield player. Aaroy is 204.5cm, and a striker in the Crouch mould. This man stands out in a crowd, not least because he plays in Japan, where the average height is 170cm.
Norway are head and shoulders above the rest when it comes to current footballing giants, with Oyvind Hoas, who once had a trial at Luton, and Even Iversen both 203cm. From down here neither appears particularly proficient, but can't looks be deceiving? As Crouch showed for the umpteenth time in that one moment of absolute, head-to-toe synchronicity at the weekend.
Independent