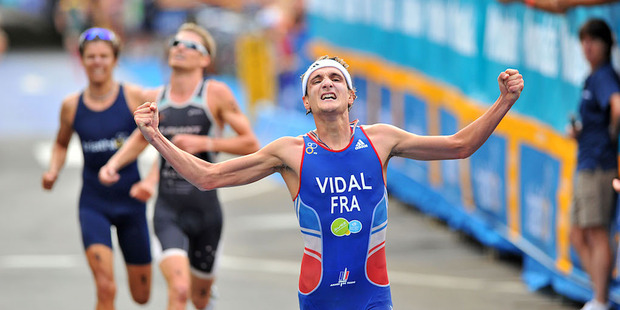 Kiwi Andrea Hewitt is travelling to France to be with fiance and fellow triathlete Laurent Vidal after he suffered a heart attack overnight (NZT).
Vidal, who in recent years has been based in Christchurch, went into cardiac arrest following a training swim at a pool in Sete, according to French media reports.
The 30-year-old experienced chest pain while swimming and exited the water to seek help from employees at the pool. Firefighters were called to the scene and Vidal went into cardiac arrest before being revived a few minutes later and regaining consciousness.
The Frenchman was then airlifted to a hospital in nearby Montpellier, where he was placed in an induced coma for at least 48 hours.
Hewitt, New Zealand's No 1 triathlete, tweeted that she was flying to be by Vidal's side and expressed her gratitude for the support she had received: "Thank you everyone for your kind words for Laurent,'' she wrote. "Shocked and so worried!''
The training incident is not the first time Vidal has suffered health problems. In 2011 he underwent a series of stringent tests after losing consciousness during a race in Sydney, the second time he had fainted while exercising.
He was eventually diagnosed with neurocardiogenic syncope, a nerve problem that causes a sudden drop in blood pressure, but the condition wasn't thought to be dangerous to his overall health.
Hewitt and Vidal split their time between Sete and Christchurch, while both athletes are regular travellers while competing on the ITU World Triathlon series.
Vidal, who on his website describes himself as an ``adopted Kiwi'', spent last Christmas with his family in the south of France before heading to the South Island to prepare for the 2014 triathlon season.
He has forged a close connection with New Zealand's high performance programme and regularly competes at national events, last month finishing 10th at a world cup race in New Plymouth.
Vidal placed fifth at the 2012 London Olympics, a spot ahead of Hewitt's position in the women's race, while he finished sixth overall on last year's world series circuit.
- APNZ