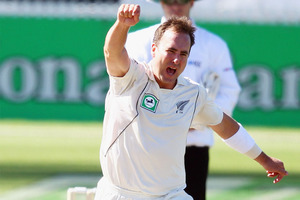 Two weeks ago Mark Gillespie was thinking about who would employ him during the winter.
Since then the Wellington right-armer received a surprise recall to the New Zealand side and produced two impressive wicket-taking displays against one of the world's best test teams.
Gillespie completed his follow-up act to his 5-59 against South Africa in the second test in Hamilton last week with a career-best 6-113 at the Basin Reserve in Wellington today as the Proteas piled on 474-9 declared in their first innings of the third test.
The Wanganui-born seamer is contracted with Wellington, but not New Zealand, and given what provincial cricketers earn, the 32-year-old said he was beginning to think of what he would do for the next few months to pay the bills.
"I think if you go back two weeks I was getting ready for the season to end and then get my body right over the winter and find a job. Find something to do, earn some money and now, hopefully, things might be a little bit different," Gillespie said at the end of play today.
With winter tours to the West Indies, India and Sri Lanka on the cards for New Zealand - which all include test matches - Gillespie might find himself back in a black cap during the middle months of the year rather than needing another line of work.
When he was pulled out of Wellington's provincial side to play his first test in just over three years last week, Gillespie said he only had thoughts of finishing the last two rounds of the Plunket Shield with the Firebirds.
"To me it's really just two extra days of cricket. I was winding down the season, eight days left for Wellington and to play for New Zealand's obviously the ultimate. But it was just a case of my body's pretty much ended with the season; it's given up. So it's just a case of getting yourself up every day to get through it and obviously it's a lot harder in test cricket so it's just that little bit extra that you've got to find."
When Gillespie was recalled to the side, Ross Taylor said the quick was a wicket taker and the Kiwi skipper has certainly been proven correct.
Gillespie charged in for 33.4 overs during South Africa's innings, albeit with a nasty split in his toe, which caused him grief before the day's play.
"I probably had two or three hours sleep last night (sat night) because my toe was just throbbing and it's quite good that yes it's a lot of pain, but it just deflects every other pain that you've got because it's just banging away. So it's quite good in that regard."
New Zealand closed day three on 65-0 with openers Daniel Flynn (35) and Martin Guptill (28) still at the crease.
Earlier in the day, South Africa produced an accomplished batting display as Alviro Petersen stroked 156, while JP Duminy made 103 as the visitors racked up an imposing first-innings total.
Poor weather dominated the first two days, but play got underway at 10am this morning and the players enjoyed bright sunshine throughout proceedings, although they had to contend with a stiff northerly breeze.
New Zealand, who are down 1-0 in the series, will have to dig in during the next two days to force their way back in to the match.
- APNZ