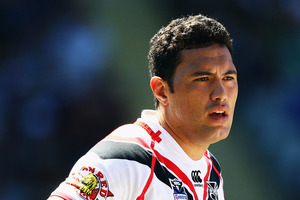 The Warriors fleet-footed forward talks to Chris Rattue about life with the team.
Feleti Mateo's magical hands have found their feet in Auckland.
The 27-year-old Warriors wizard - born and bred in west Sydney - was an extreme but erratic talent at his hometown Parramatta Eels. A shift to Auckland saw Mateo soar to career-best form under Ivan Cleary last year when he was the NRL's leading offloader, streets ahead of the next best.
The signs are good that Mateo will continue his surge under new coach Brian McClennan.
He was stunning in defeat against the Bulldogs - scoring one try, setting up two others, being denied another assist by a marginal video decision, carrying for more than 100m, leading the hit up numbers and featuring as the Warriors' top tackle-breaking forward as he refloated a side sinking before he came on in the 26th minute.
All eyes, especially those of the Gold Coast Titans, will be on Mateo at Mt Smart Stadium tonight. He takes a few questions from the Herald.
Do you mind starting from the bench?
Every footballer likes starting and getting into the early confrontation even though you play the same minutes or even more from the bench. Maybe there are games when Bluey [McClennan] feels I can cause more trouble after 20 minutes when the opposition is a bit tired. If you get too excited warming up there is a danger of trying to do too much - there is a fine line but I've come off the bench a fair bit in my career and learned how to manage it.
Your form suggests you settled quickly in Auckland last year ...
I came here with my partner - now fiancee [Michelle Zolyomi] - and she made my job and meeting new people really easy. She's a sponsorship co-ordinator at the club now. The club has been so good to me - the better you feel off the field the better you play on it. I really felt like I've been wanted. Ivan, Dean Bell and the CEO Wayne Scurrah were always on the phone before I arrived. It was a big decision coming here at the time but the future looks so bright and I want to be part of it.
Where do those ball-playing skills come from?
I put a lot of it down to playing basketball with my brothers - the peripheral vision on a court and having to know where every man is. It's not something I've worked on though - the passes just seem to pop up.
Our spies tell us you are also a hot shot netballer.
I played a bit of mixed indoor when I first came to Auckland and really liked it although I kept getting called for walking. I enjoy playing other sports and it gives you skills to incorporate into rugby league. You find a lot of clubs doing that these days. We do a lot of work with tennis balls for eye-hand co-ordination. The trainers hit it to us, as if we are in the slips - a few of the boys fancy themselves as slips fielders.
Any names?
Jimmy [James Maloney].
His name always pops up in player interviews - what is it about his personality?
It's a lot bigger than his frame. He's very loud - he brightens up the room. He's a really good bloke.
Were you always a league player?
Always, although I played a bit of rugby at school. We were a league family, but one brother played rugby at school which made things a bit funny in the house sometimes. My oldest brother also played basketball and having those other sports around was good - it expands the sporting knowledge. I can't watch too much rugby though - there seems to be a lot of goalkicking going on.
If you weren't a professional rugby league player what would you be?
Doing something with music or art. I'm studying to be a graphic designer. I'm also trying a bit of DJ-ing in the bedroom. Either that or trying to become a basketballer.
Your career highlight?
Captaining Tonga. For what it means to your family and the people who know you. To lead out your fellow countrymen is awesome. Also playing in two grand finals for Parramatta and the Warriors even though we lost. Especially the Warriors because no one expected us to get there. Hopefully it will be third time lucky.
Do you still dream of playing in the State of Origin series?
If [NSW coach] Ricky Stuart wants me then I will change my allegiance to Australia. The State of Origin is something every player would love to play in.
You could declare for a few countries - tell us about your heritage.
My mother [Lin] was born in Oxford and I've got a UK passport. My father [Sefo] was born in Tonga. They're a bit sad I'm not close to home anymore, but they've been over here a few times.
What is the one thing you would change in league?
The pay. When you look at the NFL or soccer wages and what they are doing, then you look at our sport and how we put our bodies on the line without any padding. Our guys are getting needles and painkillers and playing through pain week in and week out. There's probably no tougher sport in the world. I've seen so many guys in my career who've had to be stopped from playing for their own good. Just watching some of the places the boys are getting needles hurts. Last year, Manu [Vatuvei] was getting needles into blisters.
Your contract ends next year. Would you like to be a Warrior for the rest of your NRL career?
I'd love to - I see a big future for this club. These are exciting times.