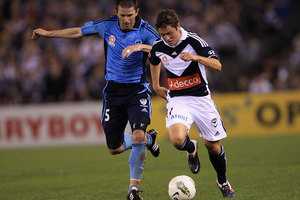 Marco Rojas became something of a pariah for Wellington Phoenix fans when he signed with Melbourne Victory last year. Kris Shannon of APNZ caught up with the winger to see how his first season played out.
The first season abroad in Marco Rojas' football career ended with a bang.
When Rojas left the Wellington Phoenix to join a talent-laden Melbourne Victory side in the A-League off-season, he probably had designs on playing a key role in a playoff run.
Maybe, in his wildest dreams, he even envisaged setting up the winning goal in the A-League final.
But there was no moment of magic to bring Rojas' season to a close.
Instead, it was the full force of Phoenix defender Manny Muscat's elbow. In his last game for the eighth-placed Victory before departing early to help New Zealand qualify for the Olympics, the 20-year-old was helped from the field after 19 minutes, courtesy of a crunching collision between Muscat's elbow and Rojas' jaw.
There was only going to be one winner in that contest, to which Rojas' concussion and fractured jaw can attest. His new side won the game 3-0, but his old side have their eyes on a greater prize.
As the Phoenix await a home playoff game next weekend, Rojas is at home, recovering from the clash which kept him out of the Olympic qualifiers and reflecting on his first season offshore.
Rojas tasted victory just three times as a starter during Melbourne's ill-fated campaign, but he has no doubt leaving the Phoenix was the right decision.
"No regrets at all,'' he says. "You can't be thinking, `what if I did this?', because that's not how it goes and it just makes it worse for you. It's been tough, it's been different, but it's been good for me.
"It's another challenge, a fresh challenge. The results haven't gone our way but I'm happy being here and I've enjoyed it.
"I felt like I made a good move.''
That feeling may wane over the coming weeks, depending how far the Phoenix progress in their quest for a maiden grand final appearance, but Rojas says he'll cast no envious glances across the Tasman.
"I'm happy for them. They're a good bunch of guys, and I've been watching their games and watching their progress and they've been doing well.
"But I think I made the right decision. I felt like it was good for my development - I wanted to make sure I was in the right place.''
Melbourne probably didn't seem like the right place midway through the season. After starting six of the Victory's first nine games, Rojas failed to make Mehmet Durakovic's starting XI for more than a month. That exile ended at the same time as Durakovic's tenure, with new coach Jim Magilton immediately recalling Rojas and starting the winger in nine of Melbourne's next 10 games.
That surge in starts, perhaps unsurprisingly, coincided with his best spell of the season.
A 2-1 win over top-of-the-table Central Coast saw Rojas record his first assist of the campaign, and he followed that up with a star turn in a 3-2 loss to champions Brisbane, with a trademark mazy run resulting in a Harry Kewell equaliser.
"I had my chances when Mehm was here, but I've had a good run under the gaffer (Magilton),'' Rojas says. "Once you get a few games under your belt, you start to get the confidence back. I think that's happened to me and hopefully I can continue it next season.''
If Rojas showed signs of returning to the match-winner who, almost single-handedly, led the Phoenix to the playoffs in 2011, a lot was to do with a return to a natural position. Under Durakovic, the winger played deeper in midfield with a greater defensive role - a responsibility he doesn't shirk but one which minimises his menace in the final third.
"It was bit of a different position but, when you're a footballer, you just want to play games. It didn't matter where I was on the pitch - I wanted to get on there.''
That desire to play a part, no matter the position, had a lot to do with Melbourne's stacked playing staff. When Rojas signed, he joined an already impressive array of attacking talent, and that only increased when Kewell was added. Rojas says having the chance to learn from the likes of the Champions League winner is a dream for a developing footballer.
"It's special for young players to be able to train with players who have been there and done the things that you want to do.''
But he says he has avoided feeling star-struck.
"Once you're on the pitch, it's just setting up another teammate. I don't really watch the games and look at it and go, `oh, I've set up Harry Kewell', it's just I've set up someone to score.''
Training every day alongside some of the A-League's best enhances Rojas' argument that joining the Victory was a step up in his development as a professional footballer.
Rojas remains thankful for the Phoenix for giving him his break, but he gives the impression of a young man whose feet become itchy if he stays still for too long.
"The Phoenix were great for me. They gave me my chance and I managed to get on the pitch and play a few games. It was good for my development, just as Melbourne is in the same way and in different ways. Every club I go to is going to help me to improve.
"At the Phoenix, I think I improved a lot, and here I've been improving so hopefully I'll just keep on making myself a better player.''
Rojas will be a keen spectator of the Olympic qualifiers in Taupo, given he is a certainty to make the side if they qualify for the London Olympics.
That tournament would provide a nice curtainraiser for Rojas' last year on contract at Melbourne, after which he says he'll "see what happens''.
It would be a surprise to see the A-League retain the talents of one of New Zealand's most promising young players, with the bright lights of Europe surely on the horizon.
"It's a dream for most footballers to be playing in those leagues in Europe, in the top leagues,'' he says. "I'm no different but it's no good thinking about what might happen in the future. I'm just making sure I put the hard work in so I can deliver on the pitch and go from there.''
The only thing left to work on is evading elbows from bruising defenders.

- APNZ