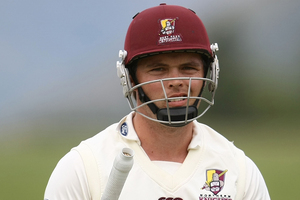 Should Daniel Flynn open New Zealand's innings in the third test against South Africa tomorrow, he won't be a "oncer" among promoted middle order specialists.
Far from it. Lefthander Flynn's only previous test innings going in first was in Galle, in 2009 against Sri Lanka.
He made a three-ball duck, and the player who dropped down to No 4 from the first innings, Tim McIntosh, fared no better.
Of the 19 New Zealand batsmen used to open test innings in the 10 years since March 2002, several were recognised specialist opening batsmen.
For the likes of Mark Richardson, Matt Horne, Matthew Bell, Michael Papps, Craig Cumming, Jamie How and Aaron Redmond, the new ball loomed large in their thinking.
However, promotion to the top from the middle order is not uncommon for New Zealand batsmen.
Purely in terms of numbers, the best combination in that time have been Richardson and Brendon McCullum, who average 40 and 45 respectively as openers.
Makeshift men Stephen Fleming and Mathew Sinclair both went at over 30 in their short time going in first, but the numbers tell a depressing tale of batsmen battling to get above the mid-twenties. The latest opener to be tried and discarded, Canterbury's Rob Nicol, lasted only two tests, fewer than anyone other than Flynn and his provincial captain Peter Fulton, who was a strictly part-time opener.
Specialists like McIntosh, Cumming and Bell all had a decent run to prove their capability.
If New Zealand's selectors look about the Plunket Shield scene for likely lads who specialise at the top, they will find a few with potential.
Six who stand out on the domestic scene are Auckland's Jeet Raval, Brad Wilson of Northern Districts, Otago's young pair Michael Bracewell and Hamish Rutherford, Canterbury's lefthander George Worker, and Wellington's Josh Brodie.
Of that sextet Rutherford (61.33), Raval (43.75) and Brodie (38.3) have the best averages for the season. In career terms, Raval (36.9) shades Bracewell (36.5) and Brodie (34.5).
But all, with the exception of Wilson, are in the formative stages of their first-class careers. South Africa are not opponents against whom it is wise to put faith in players of promise.
As a comparison, it's worth assessing openers' numbers over the last 10 years with others from past generations.
Stewie Dempster, in nine tests as an opener in the early 1930s - his 10th and last test was at No 4 - averaged an outstanding 58.18; Bert Sutcliffe, from 23 tests at the top, finished with 45.2; Glenn Turner, he of 103 first-class hundreds, averaged 45.61 from 38 tests opening; while current coach John Wright, who opened in 80 of his 82 tests, averaged 38.11 going in first.