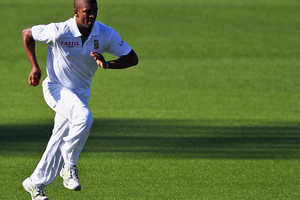 Vernon Philander has had two South African careers. The first, in 2007-08, wasn't notably successful. Seven ODIs, seven T20s and he was dropped. At one point he was even left out of his Cape Cobras first-class team in Cape Town.
But the second birth of Philander as an international player late last year has been a far different story - to be point where he is fit to sit among the very best seamers in the game.
Philander's 10 for 114 in South Africa's second test win inside three days against New Zealand in Hamilton last weekend won him the man of the match award.
In his case, numbers talk. He has taken 45 wickets in his first six tests, at the eye-popping average of 13.6. Those wickets have been taken against three international teams, starting with Australia in November, when his five for 15 helped roll the tourists for just 47 at Cape Town, then Sri Lanka and now in New Zealand.
In seven of the 11 and one-third test innings he's bowled in - New Zealand were two down in their second innings when rain washed out the final day of the first test at Dunedin - Philander has taken at least four wickets.
''I think it's obviously satisfying knowing that the same skills that I use back home are also working abroad," the 26-year-old said.
So what is Philander's game all about? He bowls at a brisk above-medium pace, is sometimes distinctly sharp, moves the ball both ways off the seam and with an immaculate length.
He commits batsmen to play at him. More often than not he can achieve an upright seam, meaning he can get the ball to jag in either direction off the pitch.
In short, he's a handful for the best batsmen. In tandem with quicks Dale Steyn and Morne Morkel - respectively No 1 and No 11 bowlers in the test game, while Philander is a fast-rising No 9 - the blend can be irresistible, certainly for a New Zealand side short of in-form, experienced batsmen.
Of the 32 New Zealand wickets taken in the first two tests, Philander has 15, Steyn seven and Morkel a slightly misleading four.
Philander spoke of slightly shortening his length in New Zealand, tailoring his work to the conditions. His body is in good shape and he's happy that his hard work is paying off.
''I think for me it's something that I obviously practised and trained these last three years, and I've enhanced those skills over the last three years, and I've got to understand," he said.
''I understand my body, how my action works, so it's something that I've got used to."
His heroes as a young man were Australian great Glenn McGrath and South African seamer Shaun Pollock. They took a combined 984 wickets from 232 tests. McGrath averaged 21.64; Pollock 23.11.
''Those are the guys I idolise and the ones I base my game on."
South African captain Graeme Smith was asked what Philander's X factor was.
''He obviously gets the ball to talk. There's always something happening. He's always in that area," Smith said.
''In my career the only person who's sort of resembled that was maybe a Glenn McGrath. He was always in that area of uncertainty and there's always something happening with the ball. He asks a lot of questions. If it's swinging a bit both ways then Vern's always going to be right in there."
Smith doubted his seamers could bowl much better than they did in Hamilton.
The Basin Reserve, venue for the third test starting on Friday which New Zealand must win to square the test series, will help the quicker bowlers who bend their backs.
Before Philander arrived for the test series, Steyn tipped him as the player to watch. Some praise considering Steyn is no pickle himself.
But he's been bang on. New Zealand know now what they're up against when the third test starts.