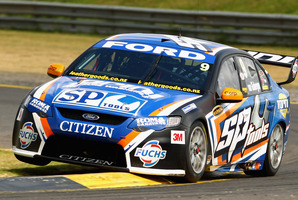 Shane Van Gisbergen and Mark Winterbottom managed a Ford whitewash at the non-championship Melbourne GP round of V8 Supercars. Photo / Getty Images
New Zealand V8 Supercar driver Shane van Gisbergen finally got one over Mark Winterbottom by winning race four at the non-championship weekend as a support class for the opening Formula One Grand Prix.
Van Gisbergen had been so close to winning in the previous races at the Australian Grand Prix only to be held out by Winterbottom. The 22-year-old overall had a great weekend - finishing third, second, fourth and first over the four races.
While there were no championship points, it was an excellent boost for the Kiwis before the next round in Tasmania in two weeks before crossing the Tasman for the ITM400 in Hamilton next month.
"We used the weekend to try out some things," said van Gisbergen. "But it's always good to win. And the things we tried worked well. It's a good boost and now we can concentrate on Tasmania and then set ourselves for a really big push at home in Hamilton for the final time."
Fellow Kiwi Greg Murphy, who was turned around in the first corner in the final race, made some progress after a major crash in the opening round in Adelaide.
"We weren't setting any records this weekend but we moved forward and at least we showed a bit of consistency in our Pepsi Max Commodore," said Murphy.
Baird back on top
Craig Baird has secured his first round win of the 2012 Porsche City Index Carrera Cup Australia season at Albert Park over the weekend.
Baird won the opening two races and topped the podium in race three.
By holding off the hard charging fellow Kiwi, Jonny Reid, Baird now leads the championship ahead of Alex Davison.
"That puts me back into the championship lead, so I'm happy coming off a round in Adelaide where we had a puncture that took a few points away from us at the beginning of the season. As they say, everyone has a bad round," said Baird.
More young Kiwi motor racing talent is rising to the top in 16-year-old Andre Heimgartner who held many long time Porsche racers to finish a creditable ninth, seventh and sixth over the weekend.
"We're all pretty pleased at how things have finished up," said Heimgartner. "The more time I spend in the all black TKR Porsche the more comfortable I feel and harder I can push. Setting that fastest lap time proves that and also that the results from Adelaide's Clipsal 500 opener wasn't a fluke."
Stroud's Superbike success
Nine-time New Zealand superbike champion Andrew Stroud needed a big weekend at Hampton Downs to get back into contention for the national championship.
Heading into last weekend Stroud was in fourth place in the championship and pulled out all the stops to win both races and close the gap on point's leader Aussie Robbie Bugden.
Stroud beat Bugden in race one and then saw the Aussie drop out of the TT race after his chain came off and the weather was another unknown factor.
"It was very hard to read the surface," said Stroud. "You could definitely see it was wet at the last corner and it was never totally dry there for the whole race.
"Towards the end of the first race I noticed Robbie sliding around quite a lot going into the straight, but to set the lap record in the very last lap of a 20-lap race is just a real testament to my Pirellis' durability and traction for the whole race," he said.
Bugden came to the meeting with a big points lead but is now just 10.5 points ahead of Stroud going into next weekend's final round at Taupo.
Auckland's 17-year-old Jaden Hassan came back from serious injury - suffered in a crash at Timaru in January - to win the TT title in the 600cc Supersport category, and also the preliminary race in that class.
Inkster wins Targa
Glenn Inkster and Spencer Winn (Mitsubishi Evo6) have won the Targa Bambina tarmac motor rally for a second year in a row. The Auckland pair eased away from the field on the second day of competition on Sunday to claim overall and Instra.com Allcomers 4WD class victory in the Auckland-Whitianga-Auckland event.
Last year's Targa Rotorua winner Leigh Hopper and Bambina co-driver Simon Kirkpatrick (Subaru Impreza WRX) and Nissan GTR-35 pair Harry Dodson and Glen Cupit filled out the rest of the podium.
With last year's Targa NZ event winner, Tony Quinn, and co-driver, Naomi Tillett, out early on the first day with a broken front differential in their Nissan GTR-35, Inkster led from start to finish, winning six of the eight stages on Saturday (the others went to Leigh Hopper and Simon Kirkpatrick) and six of the seven on Sunday to end the 870km event just over three-and-half minutes ahead of Hopper and just over seven in front of Dodson.