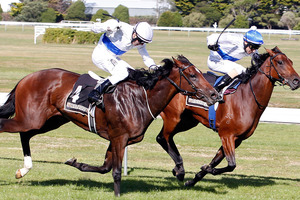 St Patrick's Day, a birthday and an Oaks quinella in the feature event at Trentham on Saturday.
Yes, it was Shaune Ritchie's day.
If there was a disincentive in the Cambridge trainer's approach it was that he thought Zurella would beat Artistic.
He was wrong, but only by a nose.
It mattered little, both Ritchie-trained fillies are owned by the Oaks Stud and its principal, Queensland-based Dick Karreman.
"This is the best day of my training life," said Ritchie.
The Cambridge horseman's approach has always been to try something different.
Ritchie took both fillies to Foxton beach a week ago to freshen. After a tough campaign for each of the fillies going into this race, the wisdom of that move cannot be argued.
Michael Coleman had Artistic beautifully placed tracking the speed from the start.
The filly went to the front early in the home straight, but the stablemate challenged immediately and looked certain to win.
Artistic fought brilliantly and Zurella could not get past.
"She was so game," said winning jockey Coleman.
Rick Williams, who manages The Oaks Stud, produced the biggest smile.
"This is the best day The Oaks has had," said Williams
Artistic was reared as an orphan. The Australian-bred mare was officially bred by Williams and former New Zealand squash rep Jo Williams' son Dean.
Even the rider of the runner-up, Jason Waddell, said: "That other filly was very tough.
"But my filly is very talented and will be better next campaign."
Ritchie will send Zurella to the spelling paddock with a cups' campaign next spring on the cards.
Artistic will stay in work for a trip to Brisbane for the Queensland Oaks on June 2 a likely target.
Guns At Five gave Cambridge trainer Chris Wood a nice win in the St Leger.
The Duelled gelding is looming as one of the country's most promising stayers, but his future is in Australia.
"He's owned over there," said Wood.
"They've indicated they might let me take him on a hit-and-run to Australia, bring him back here, spell then send him over."
If you are trying to win a race on St Patrick's Day having a surname of Greene can't be the worst factor in your favour.
David Greene had a bonanza when Cassie May won the juvenile race at Te Rapa on Saturday. He sponsored the race, he and his father Larry bred Cassie May and own 60 per cent of her.
And the Greenes are no strangers to Ireland.
"We are originally from Irish stock from Tipperary and from age 13 I lived on and off in Limerick.
"Dad was coaching rugby in Ireland and I played rugby for a year over there."
These days Greene Thoroughbreds, with David Greene as its trainer, is looking to raise its footprint image in thoroughbred racing.
The stable recently shifted from Te Aroha to a stable block leased off the Waikato Racing Club at the back of the Te Rapa course.
"We are definitely a boutique stable and offer total individual care."
Zabisco recently did well for the stable and has been sent to Mike Moroney's stable in Melbourne.
If you were looking for an added St Patrick's Day connection with Cassie May, the filly is by Irish stallion Red Clubs.
The substantial number of the Te Rapa crowd dressed in green started cheering a long way out when apprentice Alex Forbes had Cassie May six lengths clear and bolting halfway through the 600m.
The five-horse field contained three first starters and Cassie May's experience from four previous visits to the races played a big part. She maintained her advantage and won untested by six lengths in good time.
"We have to make up our mind now whether we pay the late entry fee to the (Oaks Stud) Manawatu Sires Stakes," said David Green.
"Earlier I told the others not to bother nominating her for that race because I said I felt she wouldn't run 1400m. I'm not so sure now."
In the winner's room was 84-year-old Nola Hooton, widow of former high-class rider Wally Hooton, who died in 1977.
Mrs Hooton still has an intense interest in racing and follows jockey Sam Spratt.
"I ride them harder than Sam down the straight some times."
Moments late Sam Spratt won the first race at Trentham on first starter Saturn Rock. "See how good she is," said Nola Hooton.
In other news, Sydney jockey Corey Brown has been booked to ride Cambridge galloper He's Remarkable in the group three Newmarket Handicap (1400m) at Newcastle on Wednesday. Trainer Roger James scratched the classy sprinter-miler from the sprint at Te Rapa on Saturday so he could fly him to Sydney.