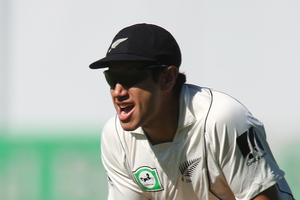 Ross Taylor holds a unique record and, if he keeps up his strike rate, could arguably be vying for the title of the game's best slip fieldsman.
Based on a minimum of 25 test innings, the 28-year-old is the only New Zealander to average one catch per innings, with the second test in Hamilton yet to be completed.
With three snaffles in the first test against South Africa in Dunedin (all in the first innings), the New Zealand captain's record sat at 63 catches from 63 innings; a feat that trumps the country's best non-wicketkeeper catchers such as Stephen Fleming, Bryan Young, Bruce Murray and Jeremy Coney.
It is no accident those players all spent decent periods of their careers in the slips where catches are prevalent, provided a player has the reactions and poise to cope.
In fact Taylor's record is world class. He currently has a better catches-per-innings ratio than any test cricketer who has pouched more than 70 chances in their career.
Former Australian captain Bob Simpson has the best record among the all-time greats with 0.94 catches per innings (110 catches in 62 tests).
While Taylor's strike rate is impressive, he has a long way to go to catch Indian slipper Rahul Dravid - being the world's most successful fieldsman with 210 catches from 164 tests - a strike rate of 0.697 per innings.
Taylor's first innings performance in Dunedin showed why he is arguably the world's best first slip at present.
The first effort off Hashim Amla looped into Taylor's hands off Daniel Vettori but the second, from the bowling of Chris Martin, was sharp. Jacques Kallis squared up and got the faintest of edges.
Taylor dived two-handed to his left and the ball may as well have landed in a skip bin.
The third catch illustrated Taylor's lightning reactions.
Dale Steyn edged a Doug Bracewell delivery to Martin Guptill who fumbled only for Taylor to mop up after him with a juggle on the rebound.
While Taylor also catches well at short cover or short mid-wicket in one-dayers, his real skill is in the slip cordon.
However, he is yet to establish any obvious habits or superstitions when going about his work. For instance Fleming (aka Buckethands) would rest his hands on his knees just before delivery.
He remains New Zealand's most prolific test catcher with 171.
Young, second overall to Taylor with 0.931 catches per innings, would often put the ball in his pocket to celebrate a job well done.
Coney was the entertainer in the cordon. He was known to play "eye spy" or "chicken" to enliven a tedious day's play.
The latter game involved closing your eyes as a bowler came in and opening them at the point of delivery.
Bruce Murray is best remembered for a non-catch in the third test against Pakistan at Dhaka (pre-Bangladesh independence) in 1969.
He was hit by a banana at third man and, while running in to complain to captain Graham Dowling, he caught a ball off the bowling of Dayle Hadlee. It was given not out but Murray held the ball in his right hand while keeping hold of the banana in his left, much to his team-mates' amusement.