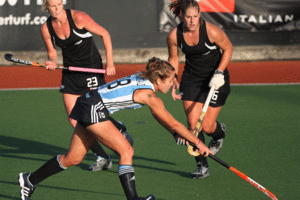 New Zealand came close to securing another draw with Argentina in their hockey international tonight but close isn't good enough for a side with lofty Olympic ambitions.
The Black Sticks came within a glove of claiming a 4-4 draw, but Clarissa Eshuis' penalty corner was brilliantly saved by goalkeeper Maria Succi after the final hooter had sounded. Argentina won the four-test series 2-0 - two matches were drawn.
In truth, it was probably not a game they deserved to draw.
Argentina regularly got in behind the New Zealand defence and forced a number of penalty corners as they dominated a lot of the possession and territory. But there was also a lot for coach Mark Hager to be optimistic about.
Argentina were playing with virtually the same side that won last month's Champions Trophy while New Zealand's is considerably different as Hager tries others on the back of their own disappointing campaign.
On the evidence of this series, a handful of regular Black Sticks might feel a little nervous about their chances of making the Olympic squad. They still have eight more games at home next month in a four-team tournament also involving Australia, India and US before they head to Europe for a month in the final buildup to London.
The Black Sticks fought hard tonight, and even led for the first time in the four-game series, but gave the ball away too easily in the wrong areas and put themselves under pressure.
They conceded four scrappy goals, not that their own were particularly fluid, but still found ways to trouble the world's second-ranked side. They drove with purpose into the circle and worked hard to regain possession in a game that moved quickly from one end to the other.
"We are definitely building again,'' captain Kayla Sharland said. "We have fixed a few things from the Champions Trophy but goal scoring is a bit of an issue. It was good to get three today, which is a step in the right direction, but we just have to stop them at the other end.
"We had patches when we had lapses and they obviously got in behind us a lot more than the previous two games. Defensively we probably need to look at how they are doing that. It was good to keep pushing to the end and try to force a draw but we need to be a bit more clinical at the other end.''
New Zealand took the lead in the fourth minute through Katie Glynn when the ball rebounded to her from a penalty corner but they relinquished that advantage almost straight away when Carla Rebecchi scored four minutes later from their first penalty corner.
Argentina then grabbed the initiative, as they broke with pace and skill, and added further goals to Maria Sruoga and Martina Cavallero. They were disappointing ones to concede _ the second came after a terrible penalty corner that wasn't trapped cleanly but was played back into the circle and the third saw Cavallero beat goalkeeper Amelia Gibson to the ball.
Eshuis equalised for New Zealand in the 45th minute to level the scores 3-3 but Rebecchi scored her second, another scrappy goal, to claim the win and the series.
New Zealand 3 (Katie Glynn 4, Gemma Flynn 27, Clarissa Eshuis 45) Argentina 4 (Carla Rebecchi 8, 50, Maria Sruoga 17, Martina Cavallero 24). HT: 2-3.
- APNZ