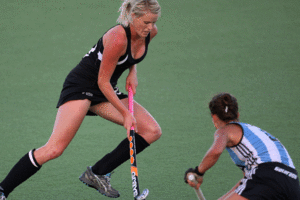 The Black Sticks and Argentina both gave their all tonight in the third test at Lloyd Elsmore Hockey Stadium in Pakuranga tonight, for a nil-all draw.
"We didn't back off tonight, we gave as good as we got. This series is about giving the younger players experience and seeing who can step up and players will learn from games like this,'' said Black Sticks coach Mark Hager.
The first half was even between the sixth-ranked Black Sticks and world No 2 Argentina, with both teams trading possession in the middle of the field, having equal opportunities to score and both teams tight on defence.
Co-captains Emily Naylor and later Kayla Sharland both had shots on goal that had Argentina scrambling to clear.
Argentina was awarded three penalty corners in the first half but one was mistrapped and the other two were well saved by Black Sticks goalkeeper Sally Rutherford, who was on top form throughout the game.
The second half continued in a similar vein, with end to end play. The crowd were cheering on Black Sticks Cathryn Finlayson and Julia King to what seemed like certain goals, but goalkeeper Maria Succi had it covered.
Aymar earned a penalty corner with five minutes remaining and with the crowd falling deathly quiet, Rutherford performed another critical glove save to prevent a Carla Rebecchi drag flick finding the back of the net.
It was a frantic last ten minutes with both teams giving it their all, and with three minutes remaining the Black Sticks were awarded their first penalty corner of the game but Clarissa Eshuis was unable to get the ball past Succi.
The final attempt from the Black Sticks came in the final 30 seconds when Finlayson had one last crack, but Succi deflected it wide and at the full time hooter it was nil-all.
The Black Sticks are now only able to draw the series. The final game of the four-test series will be played at North Harbour Hockey Stadium tomorrow night.
RESULT
Full time: 0-0
- APNZ