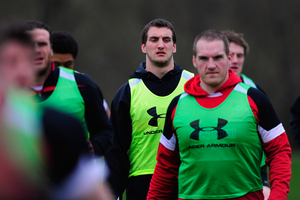 The mines may have long since shut down, the once great steel works about as healthy as a tuberculosis victim.
Wales is a very different place nowadays but offer its citizens the whiff of a rugby Grand Slam in their nostrils and suddenly the great halcyon days are here once more.
No matter that Wales retreated from the Rugby World Cup bitterly aware that they let slip a glorious chance of contesting the final and maybe even winning it.
If Warren Gatland's men beat France, their World Cup semifinal conquerors, at the Millennium Stadium tomorrow, they will complete the famous Grand Slam in the Northern Hemisphere, and an entire nation will dance as delightfully as its spring-time daffodils.
In the 1970s, Wales and France were kings of European rugby for a decade or more. One or the other invariably won the Slam; their fixture became almost a regular winner-takes-all contest.
That cannot happen this time because France, all but world champions last October, have shown again this season their notorious inconsistency and maddening unreliability. To draw at home to Ireland was bad enough but last weekend's defeat by England in Paris eliminated French aspirations for this championship.
Who knows which emotion the French will bring to Cardiff this weekend. Disinterest, dejection, fury, frustration, revenge? They wouldn't know themselves, right now.
For Wales, this represents danger. A France of unknown ambition could mean anything - a 20-point hiding or a 10- or 15-point victory. Trying to plot your team's strategy against that backdrop may tax even the excellent Warren Gatland.
Should Wales succeed, as they are strongly favoured to do, Gatland will be confirmed as coach of the Lions to Australia next year. Rightly so, too.
The standards which he demands his players attain are a role model for others in this part of the world.
Gatland seeks expansion from his team, utilising the traditional talents handed down to all Welsh rugby men by their forefathers.
But pragmatism runs as richly through this man as flavour through Welsh cheddar. Gatland knows that winning this Grand Slam cannot make up for the World Cup. But an unbeaten season in Europe at the start of the next four-year World Cup cycle would be a valuable launch pad to what the New Zealander ultimately hopes to achieve: win the 2015 World Cup in England.
A new era is dawning in Welsh rugby, one that the country hopes will continue to brighten as the next World Cup approaches.
A Grand Slam now would be a valuable pointer to Wales' enduring rugby health at international level.
However, should Wales fail, England still have a mathematical chance of retaining their title, as long as they beat Ireland at Twickenham. After their win in Paris, England will be optimistic but Ireland will examine closely their credentials.
In Rome, Italy will battle with Scotland to avoid the ignominy of the Wooden Spoon.
Six Nations
Tomorrow, ESPN
* Italy v Scotland 1am
* Wales v France 3.30am
* England v Ireland 6am.