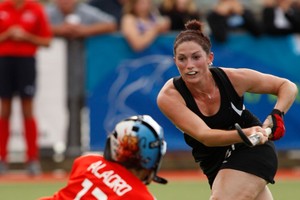 The improving Black Sticks have the chance to level their test series with Argentina when they meet in the third of four tests at the Lloyd Elsmore Hockey Stadium tonight but they will need to pick up their set play if they are to claim that much-wanted victory.
Well-beaten (4-1) in the opening test, the Black Sticks bounced back to take a fully deserved 1-1 draw in the second test on Wednesday, showing enough to suggest they might be ready to go one step further.
It was a repeat of the first-round clash between the two teams at the January/February Champions Trophy in Argentina when they finished 2-2. But while the hosts went on to win the tournament, New Zealand finished a disappointing sixth.
Much was expected from the visitors in Wednesday's match, with Argentina, boosted by the inclusion of the world's best player, Luciana Aymar, who has won five Champions Trophy gold medals and who missed the opener through Olympic commitments.
And when they went 1-0 ahead inside two minutes, another rout was in the offing. Instead it was the home team who dug deepest and tested the world's second-ranked nation. They forced the only five penalty corners of the match but their woeful run from that set play continued.
They converted none from five after netting just three from 24 such opportunities at the Champions Trophy.
Coach Mark Hager was despairing on two counts after the midweek draw.
"We were not clinical enough in converting the scoring chances we had," said Hager. "And again the penalty corners are a concern. You are not going to win international hockey matches if you can't convert at least 30 per cent of your penalty corners."
Elsewhere, there were plenty of positives for Hager to take from the match.
They lost nothing in the key midfield battle even if Aymar tended to dominate in setting up play for her teammates. On defence, the Black Sticks showed the benefit of the emphasis Hager has placed on that since the return from the Champions Trophy, while on attack, Charlotte Harrison was back to her best and fully stretched the Argentine defence at times.
With Olympic selection hanging over them, the New Zealanders know there is no place to hide. In bouncing back from the first test disappointment in the way they did, they showed that come London they might be ready to fulfil Hager's prediction of a medal.
New Zealand v Argentina
Third test, today 6.30pm Lloyd Elsmore Hokey Stadium
Fourth test, tomorrow 6pm North Harbour Hockey Stadium