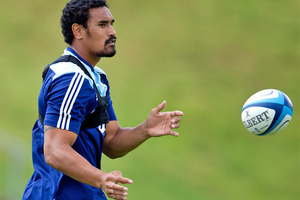 Loose forward Jerome Kaino's season-ending shoulder injury will hurt the Blues but it also raises questions for new All Blacks coach Steve Hansen.
The news that the left shoulder he injured in the round two defeat to the Chiefs needs reconstructive surgery came as a bitter blow to Kaino and Blues coach Pat Lam _ and now Hansen must figure out how he replaces the 2011 All Blacks player of the year for the June tests against Ireland, Rugby Championship and possibly the end of year tour to the United Kingdom.
Kaino, who will undergo surgery on Wednesday, said he could play for Auckland in the I™ Cup following the Super Rugby competition which ends in early August.
He said he could be a chance for the UK tour, but he is off contract at the end of the year and Hansen may decide to blood a new loose forward, such as Crusader Matt Todd or Chief Sam Cane.
Kaino said re-signing with the New Zealand Rugby Union and the Blues was a "possibility" but there have been rumours that he was looking overseas for his 2013 playing assignments.
For the All Blacks, World Cup-winning colleagues Adam Thomson and Victor Vito will have the inside running to replace Kaino at blindside flanker, with Richie McCaw and Kieran Read shoo-ins for the other two loose forward positions, if fit.
"I'd say so," he said when asked if he had given up on the rest of the year. "With a lot of guys hitting form during the Super 15 I think I would struggle to slot straight in to any top-level rugby. I will fit in wherever I can, hopefully I will get some I™ Cup [rugby] in.
"I was quite surprised, gutted," Kaino said of his reaction when told he need surgery and would be out for six months. "Usually after these sorts of episodes the shoulder settles down and I can get back into training. But the shoulder didn't settle down. I thought when I got the scans it would be good news but it was a lot worse than I thought it was.
"It was just weird the way I injured it. I didn't do it in contact, I landed awkwardly against the Chiefs. It was a slippery surface and I ended up in an awkward position."
Kaino, 28, who has been capped 48 times for the All Blacks and 85 for the Blues, has already had a right shoulder reconstruction which has strengthened the joint considerably. Scans revealed bone had been chipped off and although there is a possibility that he will need a bone graft, he said the operation was a relatively simple one and he was hoping for a similar result.
Although a specialist at blindside flanker, Lam had earmarked him for No8 at the Blues this season. Chris Lowrey, Peter Saili and Brad Mika are now likely to vie for that position.
At 1.96m and 105kg, he is an imposing figure and his bone-shaking defence has gone to a new level in recent years. Kaino will leave a big hole at both the Blues and the All Blacks and he revealed Hansen had already rung him to wish him luck for the operation.
"I haven't really given that a thought," he said of any possible replacements. "I'm still trying to get over not playing for the Blues this season. That's where my head is at at the moment."
That, and not being able to lift his son, Kobe, who was born just before the All Blacks kicked off the World Cup last year.
- APNZ