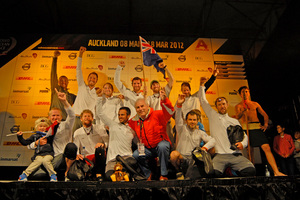 A Kiwi flag flew on the first boat to reach Auckland last night in the Volvo Ocean race, but it didn't belong to Team New Zealand.
French team Groupama, with Kiwi bowman Brad Marsh on board, survived a late scare of a hole in the bow to cross the line in first position.
An ecstatic Marsh, who was greeted by hundreds of wellwishers out on the Waitemata Harbour, told of his elation at being the first Kiwi home.
The 28-year-old Aucklander was allowed to fly the New Zealand flag on the boat and described the moment as "a childhood dream".
"I didn't allow myself to think about winning up until today. But the excitement set in as we came down the coast and I realised it was all going to happen."
His boat came in at 11.33pm last night to claim Leg 4 - after a hole in their bow had threatened to blow their lead just 160 kms off the Auckland coast.
There was huge disappointment in Grant Dalton's camp that the home team of Camper Team NZ couldn't win on round-the-world yacht racing's first return to the City of Sails in 10 years.
The leg had been made even more tension-filled by Dalton's insistence the Kiwi crew had to arrive first on their home leg.
"There's been a lot of rivalry and banter over the past couple of months as to who'd be the first into Auckland," Marsh said. "I'm sure Grant Dalton would be pretty disappointed and upset that they're not the first."
The racing in rough seas had been "pushing us to the limit, that's for sure".
Marsh's father, Peter, had spent plenty of time checking on his son's progress.
"It's pretty hard to keep away from the computer screen at the moment," he said.
The family had a proud sailing tradition so Groupama's arrival was especially poignant.
"I've always been a yachtie. My father was a yachtie. I think it's in your skin, in the blood.
"I said to him, the main thing was to be the first Kiwi to come into New Zealand. It's a hell of a thrill. I guess you can't just help but be so proud."
Last night, Puma Ocean Racing held a narrow lead over Telefnica and Camper in the battle for second place.
All three boats were expected in early this afternoon, with the whole fleet likely to be finished by midnight.
Volvo head of communications Penny Dain estimated 25,000 people had been through the race village around Te Wero Island at the Auckland Viaduct by 4.30pm yesterday.
"It's absolutely buzzing down here," she said.
The race village has activities from 9am-9pm daily.