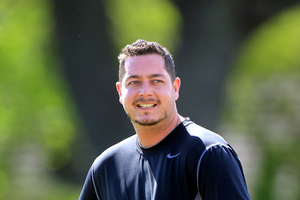 Jesse Ryder has made a tough but correct decision to step away from cricket indefinitely.
He is the latest in a long line of cricketers, such as Australian Michael Slater and Englishmen Marcus Trescothick and Graham Thorpe, who struggled with the grind which can consume a professional's life.
Putting aside any fitness concerns, news Ryder is seeking help from a clinical psychologist indicates it would be foolish for him to be engaging in cricketing combat at any level.
His recent test record reflects this. He averages 40.93 in an 18-test career but, since January 2011, Ryder has played eight test innings to average 12.13. It has been compounded by his refusal to change his behaviour or acknowledge a drinking problem.
Ryder was once treated as a roguish anti-hero after the 'fist through the dunny window' episode four years ago.
Further form has turned patience to pity and sometimes anger. His half-century - albeit with a stagger at the end - which took New Zealand close to victory in the final Twenty20 against South Africa received a less than glowing reaction.
While Ryder may be mentally fragile, he could look to former test cricketers for inspiration.
Once considered a 'gentleman's game', cricket provides a demanding mental challenge, even at club level, with oppositions sledging at will.
Take former Australian opener Slater. He has succeeded as a broadcaster after his career fell apart in 2001 when his marriage broke down and there were allegations of womanising and drug-taking which were never proven. Enthusiastic and a pleasure to watch in his pomp, Slater began abusing players and umpires on occasion.
He also felt the pressure of relentless chipping from his peers. When batting in a Sheffield Shield match, Shane Warne and Victorian wicketkeeper Darren Berry took turns saying 'tick' and 'tock' between balls, hinting Slater's temper was waiting to explode. When Slater holed out, it's understood they bellowed 'ka-boom' as he trudged to the pavilion.
England opener Trescothick suffered in the goldfish bowl of international cricket. During England's tour of India in February 2006, he returned home citing personal reasons and later blamed a virus. He was included in the 2006-07 Ashes squad played the first two matches in Australia and exited again.
Trescothick never played another international but came to manage what was diagnosed as depression. His 2008 autobiography Coming Back to Me revealed he had anxiety attacks since age 10.
When overseas, he was confronted by a fear of what might be happening to his wife and family at home. It culminated in March 2008 when he was found slumped distraught in a shop at Heathrow airport, unable to board a plane to Dubai with his Somerset team-mates. Such fears were minimised in domestic cricket because he was rarely more than three hours from home.
Fellow England batsman Thorpe also dealt with a well-publicised marriage breakdown in 2002. He forced his way back to shine in the test side until being dropped for the 2005 Ashes. Thorpe lashed out at the family courts in a 2004 edition of Wisden Cricketer as he struggled for access to his children.
Action group Fathers 4 Justice found a supporter when Thorpe said: "I don't blame these guys who are climbing bridges and protesting about fathers' rights. They know the law doesn't really work."
A Boxing Day incident with his ex-wife's new partner saw police involved.
"All I was asking was for five minutes with them while they opened their presents," he said. "Some other bloke, who my wife ran off with, was telling me that I can't see my children and to get off a property I paid five hundred grand for. What's that about?"
He is the England Cricket Board's lead batting coach.