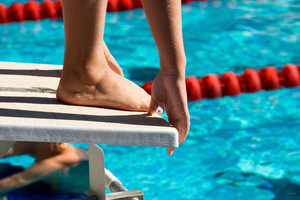 New starting blocks mean the country's best swimmers might gain 0.3s when they contest the London Olympic qualifiers from March 25-30.
At a cost estimated in excess of $70,000, Swimming Auckland, with the assistance of sponsors, has installed eight new starting blocks at Auckland's West Wave aquatic centre - expected to give Olympic hopefuls more speed.
It is understood the blocks, designed by time company Omega, will increase the current height by 5cm to 68.5cm above the waterline.
The maximum allowed by world governing body FINA is 75cm. The increase in height enables athletes to get faster times.
That is because they spend longer in the air from a dive. Air is around 840 times less dense than pool water at FINA-prescribed water temperatures (between 25- 28C ).
As a result it is estimated an athlete can get a 0.3s advantage from the extra dive time.
To date only four New Zealand individual swimmers - freestylers Lauren Boyle and Melissa Ingram, backstroker Gareth Kean and breaststroker Glenn Snyders as well as the women's 4x200m freestyle relay - have set A qualifying times in seven individual events for London.
The decision could have a particularly positive effect on sprinters. Under Swimming New Zealand's Olympic criteria, athletes have to prove they are capable of finishing in the top 16 in the world. Add 0.3s to the top 16 men's and women's times set in the 50m freestyle this year and it pushes those rankings into the mid-30s.
However, New Zealand swimmers are disadvantaged in qualifying times at home by the quality of the pool.
Top international times tend to be set in pools produced for genuine Olympic or world championship competition, like Beijing. At the last Olympics, 25 world records were broken.
Such pools tend to be of a constant depth - and deeper than normal pools.
That allows the waves created by athletes to dissipate to the bottom, leading to less water disturbance. They are engineered for speed.
For instance, at three metres deep, the Water Cube in Beijing was one metre deeper than most pools. The West Wave aquatic centre has a constant depth of about two metres.
The March event doubles as the national championships.