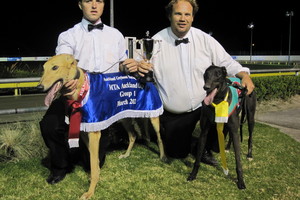 The end of a greyhound racing era occurred at the Manukau Stadium on Thursday evening when the youngster Bigtime Kinvara denied his more illustrious older kennelmate Little Mother her third successive MTA Auckland Cup victory.
Bigtime Kinvara, the youngest greyhound in the $75,000 group one event for trainer Lisa Ahern, took a flyer when the 527m traps opened and from there on it was one-way traffic, although the John McInerney trained Another Dollar bravely charged at him late.
There was just a neck separating the pair after 30.40secs of intense chasing action. Little Mother was gallant in defeat. After making an unusual tardy start, she was posted wide throughout the journey, but still dug in deep when flying home for third, a further 2.5 lengths behind.
The Auckland Cup victory was within a breath of not happening, as Ahern's partner Brendon Cole explains. "Bigtime Kinvara's mother, Flag The Bank had started whelping her litter while we were racing in Wanganui two years ago.
"When we got back to Palmerston North she had rejected the pup who became Bigtime Kinvara. He was cold and had stopped breathing. I said to Andre (Poutama) he's gone, he cannot be saved. Andre refused to accept that, filling a baby's bottle with milk and he spent hours feeding and nursing the pup back to health.
"Then when he was six-months old, he swallowed a whole nectarine, resulting in an emergency operation to save him. So we really owe it to Andre (who undertook the handling duties on Thursday) for Bigtime Kinvara's Auckland Cup win."
"Little Mother was really brave. As for her future, at this stage she is likely to return to Sydney and contest the $250,000 to-the-winner Golden Easter Egg series before being retired. We are thinking about taking Bigtime Kinvara over there to contest support races and he will return for the NZ Derby at Cambridge."