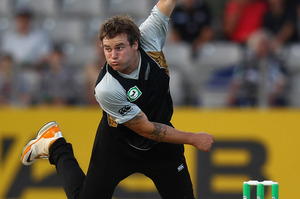 Dispirited Doug Bracewell was gobsmacked when what he and his New Zealand teammates felt was a legitimate lbw was ruled out by the Decision Review System yesterday.
Bracewell appeared to have South African lefthander Jacques Rudolph out late in the day - umpire Aleem Dar certainly thought so, too - only for the South Africans' review to find the ball pitching sufficiently outside the leg stump to rule it out.
"I thought it was pretty dead [out] straight away," Bracewell said last night. "I think everyone thought it was out. I think they made a mistake."
Bracewell is clearly bemused by the DRS system.
"I think a couple of guys are a little bit, you know, kind of iffy about it, but it's there and it's the same for both teams, I suppose.
"What I got told was half the ball has to be off the line of the leg stump and I'm pretty sure we could see three quarters of the ball on leg stump.
It was bizarre."
South African centurymaker Jacques Kallis reckoned the Rudolph decision was a 50-50 call and felt it was worth attempting.
But he also has reservations about the system.
"Plenty," he quipped. "I don't think there's any guys that are 100 per cent sure that thing's as accurate as they want to make it out to be. I'm not sure and I think 99 per cent of cricketers would say that."
Kallis recalled the "older times" when bad decisions, before DRS was introduced, could end careers.
"I understand there's a place for it - but how accurate it is, I don't know."
Bracewell said the pitch offered little to the bowlers, while also praising the quality of Kallis and captain Graeme Smith, who also hit a century.
"It was tough. There wasn't much in the bowlers' favour.
"But the two guys got away and batted pretty well."