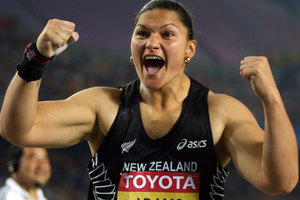 Valerie Adams' Olympic credentials will get their first major workout of the year this weekend when she competes at the world indoor championships in Istanbul, Turkey.
The 27-year-old world champion has dominated women's shot put for a number of years but is desperate to retain her Olympic title in London this year and will want to find form to stamp her authority over arch-rival Nadzeya Ostapchuk in the last major event before London.
The world indoor title is also the only major championship she doesn't currently hold. She has competed at the event twice before and won in 2008 in Valencia but was beaten by Ostapchuk at the 2010 championships in Doha. That defeat is the only one Adams has suffered in a major championship event since 2005, when she finished third at the world championships in Helsinki.
Adams rarely competes indoors and has an indoor best of 20.51m, set in a railway station in Zurich last year at the Weltclasse Diamond League meeting.
Ostapchuk, on the other hand, competes indoors regularly in the northern winter and has a best of 21.7m set in February, 2010.
Three other indoor performances are better than Adams' indoor best but Ostapchuk usually has her best performances in the early part of the year.
Ostapchuk will go in with the slightly better form. She has the best throw of the year with 20.70m set at her national championships in Mogilyov in February in her sole indoor competition this season.
Adams has had a busier schedule, competing in three events in Australia and New Zealand, and has slowly improved. She achieved a throw of 20.67m at the Sydney Track Classic in her last outing.
Adams is a fierce competitor and last week talked about her desire to maintain her dominance in Olympic year to gain the psychological edge.
"It's my gameface,'' she said when asked about her stern look when competing.
"It's the don't `f' with me look. I just go in there thinking about one thing and that's smacking the crap out of it and being focused on how much I can throw and putting pressure on the other throwers.
"I have to play my game. You just have to plan and prepare for anything that may crop up. You do play the psych game, it's all part of the competition, everyone tries to psych everybody else out and I do the same thing. Whoever does it best on the day is the champ.
"I'm in the best shape that I've ever been at this time of the year. Physically as prepared as I could be at this time of year. I feel like everything is on track.''
Adams is the only New Zealand athlete competing at the world indoor championships. Qualifying for the shot put will be on Saturday evening (NZ time) with the final early on Sunday morning.
- APNZ